Mercedes: Schumacher sparkle is back
| | |
| --- | --- |
| By Jonathan Noble | Monday, May 10th 2010, 10:31 GMT |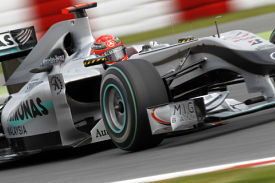 Michael Schumacher's old 'sparkle' has returned thanks to the revisions made to Mercedes GP's car in Spain, but the team still has a mountain to climb before it can think about challenging Red Bull Racing.

That is the view of Mercedes GP CEO Nick Fry, who believes that Schumacher's fourth place finish is evidence he is now back on track with his F1 return after his Chinese Grand Prix setback.

"The sparkle is back," Fry said when asked by AUTOSPORT if Schumacher was like his normal self again. "I think in China he was perplexed - that is the best word to use.

"I don't think he really understood or we really understood why he had the problems he did, and that is always a major concern. Right from the beginning of Friday in Spain he was on it right from the start, and listening on the radio to Michael, there is the confidence back in his voice. He knows exactly what he wants from the car and he got all that could be had.

"He was concerned after China, because we didn't understand what happened. He spent a day at the factory with his engineers and he spent a day out cycling with them, and I think they worked on some things together. We are back on track with him."

Despite the promise of Schumacher's step forward in performance, Fry conceded that the deficit to race winner Mark Webber was a cause for concern - being more than one minute behind at the chequered flag.

"When you finish a minute behind it is incredibly disappointing and the reality is that we have a lot of work to do," explained Fry.

"I frankly wouldn't expect the Red Bull to have such an advantage on other circuits, and I think this one particularly suited it. But even if it hasn't got that level of advantage, it has certainly got half a second on us and that is a lot to make up - so there is a lot of work to be done over the next month or so."