Q & A with Simon Pagenaud
| | |
| --- | --- |
| By Simon Strang | Sunday, May 9th 2010, 17:54 GMT |
Simon Pagenaud, Stephane Sarrazin and Sebastien Bourdais came through a race of constantly changing weather, large accidents, and even a bizarre red flag for a power cut to win the Spa 1000km for Peugeot.
Afterwards Pagenaud talked AUTOSPORT through the team's incredible day in Belgium.
Q. What a crazy race...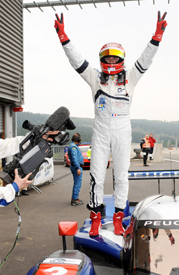 Simon Pagenaud: I'm getting used to this kind of thing...
Q. What was the turning point for you, the red flag?
SP: I think it helped, of course it helped, because it closed the gap. Then we were leading with such a margin, and the last safety car didn't help us at all.
You can always look back and say 'it could have been different'. Yes, it could have been different, but in the end the decision Peugeot made to stay on slicks in wet conditions... the race wasn't won, it was far from being won at that point, because every corner was an adventure. It was a bit like rallying. I was expecting to have some kind of grip in the corners and it was like ice. You saw Marc [Gene] going off, it was really difficult conditions.
My hat's off to the team and the decisions that have been made. I think it shows the growth of the team in the last few years.
Q. There was no panic, no mistakes...
SP: There was no panic and I was quite happy with the communication because I remained really quiet and calm in the car, and my engineer remained really quiet as well, and he was able to give me information and focus us on what Tom [Kristensen] was doing with the Audi, what Stephane [Sarrazin] was doing with the soft tyres, so we kept chatting and it helped me to remain calm and know that I was in control even though it was confusing on the track.
Q. It must have been hard to stay calm during the strange red flag?
SP: Absolutely. In those conditions, the race restarted from zero. So you've got to restart and do the best you can at that point.
Q. Could you have caught the Audi anyway?
SP: I think we had the speed. I didn't try crazy things, I did good laps, but I didn't do anything crazy in the traffic. In different conditions, if I had been second, I think I would've pushed differently and closed up in dry conditions, but then Tom would have been the one looking for me, it would have been a completely different situation in the end.
Q. How many laps did it feel out of control for in the hairy last laps, because it all came back to you again...
SP: Well what happened is that I was on mediums, it started to rain at Les Combes, or just after Radaillon. It was okay to begin with, and then we were under the safety car and I saw some moisture on the track. I knew then that I was in trouble. We didn't want to pit under the safety car because of the new regulations, so I stayed out, I looked at where the rain was coming, and I saw that it was moving.
It wasn't at Les Combes and Radaillon anymore at the end of the safety car, so that meant it was moving, and nothing was behind it, they were telling me on the radio. So I thought, 'if there's nothing behind, it's just such a little cloud, why would I change tyres?' Tom had already changed tyres, that was fine, he went on intermediates. And I thought if I go to intermediates now then I'll lose the position anyway.
Q. Were you on cut slicks?
SP: I was on medium slicks, which was really bad.
Q. Is this the craziest race you've ever been in?
SP: I think Long Beach was one of those... This one was pretty hairy. When I saw Pedro and Sebastien and their stints, I thought 'this is going to be a hard race'. I think it was one of the most hairy.
But I'm really happy, because I prepared myself really well and I was able to be really quiet and stay in control, and that's a big satisfaction for me even though we won.