Pagenaud: Win proves team's strength
| | |
| --- | --- |
| By Simon Strang and Matt Beer | Sunday, May 9th 2010, 17:53 GMT |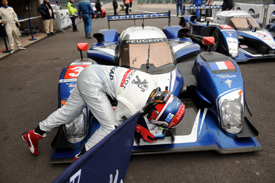 Simon Pagenaud believes Peugeot's triumph in the incident-packed and rain-affected Spa 1000km shows how effectively and calmly the team is now operating.
Round two of the Le Mans Series - which the factory Audi and Peugeot teams both contested as preparation for the Le Mans 24 Hours - saw wild weather, a series of huge crashes, and even a red flag stoppage while a power cut in the region was rectified.
Despite team-mate Pedro Lamy spinning at the start, Pagenaud emerged in the lead in the closing stages, then hung on using slick tyres through a rain shower to clinch victory.
Until its breakthrough Le Mans and Petit Le Mans triumphs last year, Peugeot had often lost out to Audi because it was not as operationally efficient in difficult races, but Pagenaud felt its win in the chaotic Spa race emphasised that those days were long gone.
"My hat's off to the team and the decisions that have been made," Pagenaud told AUTOSPORT. "I think it shows the growth of the team in the last few years.
"There was no panic and I was quite happy with the communication because I remained really quiet and calm in the car, and my engineer remained really quiet as well, and he was able to give me information and focus us on what Tom [Kristensen] was doing with the Audi, what Stephane [Sarrazin] was doing with the soft tyres, so we kept chatting and it helped me to remain calm and know that I was in control even though it was confusing on the track.
"I'm really happy, because I prepared myself really well and I was able to be really quiet and stay in control, and that's a big satisfaction for me even though we won."
Pagenaud explained that he had been able to assess the weather during a safety car period and took the restart confident that he could cling on with slicks until the track dried as long as no more rain arrived.
"It was okay to begin with, and then we were under the safety car and I saw some moisture on the track," he said. "I knew then that I was in trouble. We didn't want to pit under the safety car because of the new regulations, so I stayed out, I looked at where the rain was coming, and I saw that it was moving.
"It wasn't at Les Combes and Radaillon anymore at the end of the safety car, so that meant it was moving, and nothing was behind it, they were telling me on the radio. So I thought, 'if there's nothing behind, it's just such a little cloud, why would I change tyres?'"
He also believes that Peugeot had the pace to win even if conditions and safety cars had not ultimately fallen in his #3 car's favour.
"I think we had the speed," said Pagenaud. "I didn't try crazy things, I did good laps, but I didn't do anything crazy in the traffic."