Schumacher concerned by gap to pole
| | |
| --- | --- |
| By Jonathan Noble | Sunday, May 9th 2010, 09:45 GMT |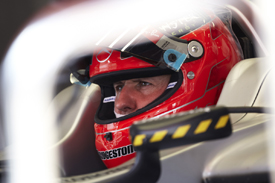 Michael Schumacher may have outqualified team-mate Nico Rosberg for the first time this season at the Spanish Grand Prix, but he still reckoned there was little to be happy about with the performance of Mercedes GP this weekend.
A heavily revised W01, which included a changed weight distribution, had helped Schumacher deliver his best form of the season so far to qualify sixth.
But although pleased with his own performance breakthrough, he admitted that the huge deficit to the best Red Bull Racing car - 1.3 seconds – meant he and his outfit could not be hugely satisfied with the performance step they had made.
"I'm not sure that there is so much progress other than China was a one-off for various reasons, some we understand and some we don't understand," said Schumacher. "I was just completely off the pace.
"I'm not particularly happy now. There is no reason to be happy to be more than a second off Red Bull's pace. Although I feel the car a lot more in my hands, I can work the car certainly better than I have been able to, from where we are we have to look forward and have to understand what it is that we have to do to react and close the gap."
With aerodynamic performance key to a lap time in Barcelona, Schumacher was aware that Red Bull Racing's downforce advantage may have helped it open out a bigger than normal gap – with perhaps next weekend's Monaco Grand Prix delivering a different picture.
"We are here in Barcelona, and Barcelona is a track where every aerodynamic advantage you have is more noticeable in proportion to probably Shanghai," he said. "It might be a completely different picture coming to Monaco. It will be interesting to see."