Turner calls for leniency from stewards
| | |
| --- | --- |
| By Simon Strang | Sunday, May 9th 2010, 08:55 GMT |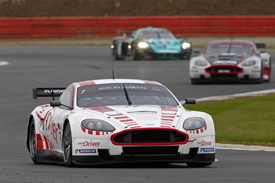 Darren Turner has called for more understanding and dialogue between the teams, stewards and organisers of the FIA GT World Championship following his Young Driver Aston Martin team's exclusion from winning the Tourist Trophy at Silverstone last weekend.
The Briton revealed that the team has appealed against its exclusion for too much wear on the plank fitted to the underside of the car, but Turner feels that the punishment did not the crime as he and co-driver Tomas Enge were forced to hand victory over to Warren Hughes and Jamie Campbell-Walter in the Sumo Nissan.
"It's a big disappointment," Turner told AUTOSPORT. "The Tourist Trophy was always something special to me and I wanted to win it.
"So when I did it was just a fantastic feeling so to then have the phone call three hours later telling me we'd been excluded because we had too much wear on the plank was gutting.
"Obviously it's the team's responsibility to make sure the ride-height is high enough to not wear the plank. We started the second race with the same plank that we finished the first race so that should have been changed or raised the ride height.
"But we had such a good lead that even if we had run it higher I'm sure we would have had the same result."
Turner accepts that he won the event with a car that failed post-race scrutineering, but added that it was not through deliberate intent, but rather an affect of the team and championship being so new, and called for a more leniency during the bedding-in period of the new category.
"A lot of these regulations filter down from things like Formula 1," he said. "But those teams are huge with massive input from the manufacturers. When you look at what the FIA GT World Championship is made of and it's on a much smaller scale. Our engineer isn't even full time! There is only so much money and you have to cut your cloth accordingly.
"With this in mind you can't expect everything to be done to Formula 1 quality and precision, when there just isn't the infrastructures in the teams to achieve that kind of perfection.
"You could argue that it is an FIA world championship and there are no excuses, but when you have got part-time staff and some of the teams are run on a shoestring, there needs to be some leeway.
"We were slightly worn on one patch of the plank, and people are learning at the moment," he added. "Our car has never run with a plank before so we have done two race meetings with planks. It's not like we've done a 100 days of testing, it's all been last-minute, we've only just got the cars homologated.
"I think there has got to be this transitional period where everyone works together to go racing."