Peugeot maintains Spa advantage
| | |
| --- | --- |
| By Simon Strang | Saturday, May 8th 2010, 09:14 GMT |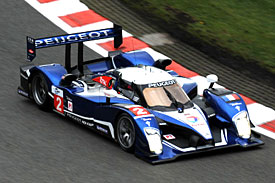 Peugeot maintained its position at the top of the times in the final free practice session for the Spa 1000km as Stephane Sarrazin set the pace in the #2 factory 908 HDi turbo-diesel.
The Frenchman was half a second quicker than his compatriot Sebastien Bourdais in the sister #3 car.
Audi put in a stronger showing in the Belgian morning sun as Allan McNish closing the gap to the pace-setters to just over a second, despite Team Joest insisting the R15 TDI Plus is running a low-downforce 'Le Mans' set-up.
Team ORECA was fourth fastest as Olivier Panis and Nicolas Lapierre continued to mix it up with the factory cars in the privateer Peugeot.
Mike Rockenfeller put the #9 Audi in fifth position ahead of the third factory Peugeot in Alex Wurz's hands.
Jean Christophe Boullion was seventh quickest in the Rebellion Lola, the first of the petrol runners and nearly four seconds away from Sarrazin's mark.
The #8 Audi was eighth fastest after the car spent time in the pits with a diesel filter problem.
The sister Rebellion car was ninth, while the Strakka Racing LMP2 Acura completed the top ten in the hands of Danny Watts and Jonny Kane.
The Matach Competition Ford GT was quickest of the GT1 runners in the hands of Thomas Mutsch while Andrew Kirkaldy pushed the CRS Ferrari to the fore in GT2.

Pos Driver                            Class//Car                    Time
 1. Montagny/Sarrazin/Minassian       P1  Peugeot 908 HDi-FAP       1m59.428s
 2. Lamy/Bourdais/Pagenaud            P1  Peugeot 908 HDi-FAP       2m00.042s
 3. Capello/Kristensen/McNish         P1  Audi R15 TDI              2m00.573s
 4. Panis/Lapierre/Duval              P1  Peugeot 908 HDi-FAP       2m00.958s
 5. Bernhard/Dumas/Rockenfeller       P1  Audi R15 TDI              2m02.028s
 6. Gene/Wurz/Davidson                P1  Peugeot 908 HDi-FAP       2m02.094s
 7. Belicchi/Boullion                 P1  Lola B10/60 - Rebellion   2m03.264s
 8. Fassler/Lotterer/Treluyer         P1  Audi R15 TDI              2m03.790s
 9. Prost/Jani                        P1  Lola B10/60 - Rebellion   2m04.368s
10. Leventis/Watts/Kane               P2  ARX-01c 2:27.882 20       2m05.322s
11. Ragues/Mailleux/Ickx              P1  Lola - Aston Martin       2m05.589s
12. Erdos/Newton/Wallace              P2  Lola HPD Coupe            2m06.966s
13. Ojjeh/Greaves/Ebbesvik            P2  Ginetta-Zytek 09S         2m07.841s
14. Moreau/Hein                       P2  Pescarolo - Judd          2m08.486s
15. Geri/Piccini/Piccini              P2  Lola Coupe B09 - Judd     2m09.372s
16. Francioni/Pirri                   P2  Lola Coupe B09 - Judd     2m10.529s
17. Noda/De Pourtales/Kennard         P2  Lola B08/47 - Judd        2m10.828s
18. Lahaye/Nicolet                    P2  Pescarolo - Judd          2m11.581s
19. Amaral/Pla                        P2  Ginetta-Zytek 09S         2m13.230s
20. Frey/Meichtry/Bruneau             P2  Radical SR9 - Judd        2m14.566s
21. Pillon/Verdonck/Capillaire        FLM Oreca                     2m14.809s
22. Kraihamer/De Crem/Delhez          FLM Oreca                     2m15.701s
23. Zacchia/Kaufmann/Moro             FLM Oreca                     2m16.851s
24. Toulemonde/Zollinger/Zampatti     FLM Oreca                     2m16.919s
25. Schell/Da Rocha                   P2  Courage-Oreca LC75        2m17.071s
26. Barlesi/Cicognani/Chalandon       FLM Oreca                     2m17.544s
27. Mutsch/Hirschi/Beche              GT1 Ford GT                   2m17.822s
28. Leinders/Palttala/De Doncker      GT1 Ford GT                   2m18.798s
29. Kirkaldy/Mullen                   GT2 Ferrari F430 GT           2m19.402s
30. Enge/Nygaard/Mucke                GT1 Aston Martin DBR9         2m20.361s
31. Jousse/Gregoire/Hart              GT1 Corvette C6.R             2m20.372s
32. Lieb/Lietz                        GT2 Porsche 997 GT3 RSR       2m20.391s
33. Pilet/Narac                       GT2 Porsche 997 GT3 RSR       2m20.512s
34. Bruni/Melo                        GT2 Ferrari F430 GT           2m20.701s
35. Ehret/Quaife/Kaffer               GT2 Ferrari F430 GT           2m20.878s
36. Alesi/Fisichella/Vilander         GT2 Ferrari F430 GT           2m21.277s
37. Farnbacher/Simonsen               GT2 Ferrari F430 GT           2m21.278s
38. Gardel/Goueslard/Rees             GT1 Saleen S7-R               2m21.683s
39. Holzer/Westbrook                  GT2 Porsche 997 GT3 RSR       2m21.788s
40. Bell/Turner                       GT2 Aston Martin Vantage      2m21.844s
41. Ragginger/Ried/Long               GT2 Porsche 997 GT3 RSR       2m21.861s
42. Dumbreck/Coronel                  GT2 Spyker C8 Laviolette      2m21.885s
43. Priaulx/Mullen/Farfus             GT2 BMW M3                    2m22.262s
44. Muller/Werner/Alzen               GT2 BMW M3                    2m22.349s
45. Allemann/Frey/Zimmer              GT1 Ford GT                   2m22.370s
46. Schroyen/Van Dam/Lacko            GT1 Saleen S7R                2m23.085s
47. Von Splunteren/Hommerson/Machiels GT2 Porsche 997 GT3 RSR       2m25.580s
48. Companc/Russo                     GT2 Ferrari F430 GT           2m28.344s
49. Daniels/Slingerland/Lanik         GT2 Porsche 997 GT3 RSR       2m28.455s
50. Kutemann/Basso/Hartshorne         FLM Oreca                     2m27.210s