Fortunes will change soon - Hamilton
| | |
| --- | --- |
| By Jonathan Noble | Friday, May 7th 2010, 09:39 GMT |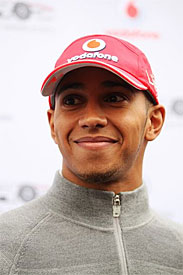 Lewis Hamilton may have been forced to see team-mate Jenson Button grab the wins and the headlines so far this season, but he thinks there is still every reason to feel positive about his own world title prospects.
The McLaren driver had gone into the season with many people expecting him to have the upper hand over his team-mate, but instead it has been Button who has taken wins with two stunning drives in Australia and China.
However, Hamilton thinks the fact he is just 11 points behind his team-mate despite the frustrations of his early part of the season means he should be in a very good situation once his luck turns.
"I take it as a real positive because even though the weekends have looked disastrous at certain points, somehow I've managed to pull results out," said Hamilton in Barcelona. "I don't know where they've come from, but somehow I've managed to pull something out of nothing.
"So it's comforting to know I'm still so close and all that hard work has paid off. And I know if I keep working the way I am, then I will start seeing my fortunes change."
Hamilton is adamant there is no reason to feel downbeat about the fact that it is Button who has taken both McLaren's wins so far this season rather than him.
"I'm not negative. I'm positive," he explained. "It's good for the team. Jenson has deserved it with the way he has been driving.
"It could have gone either way. It's a 50-50 chances with those decisions you make, and fortunately for him they've gone the right way. For me, I've no doubts at some stage it will go my way.
"In terms of racing I've done overtaking. In Australia I got passed and was ahead, but was a little unfortunate with the pit stop and also in China. Apart from that I've been very competitive. The results don't really show my true pace, so hopefully you'll get to see that."
He added: "It would be great to have more one-twos this year, and I have no doubt we'll be able to do that.
"Jenson is a fantastic driver and he's doing a great job. Together with the team we can get great results for the rest of the year."