Solberg happy to run first on Saturday
| | |
| --- | --- |
| By David Evans | Friday, May 7th 2010, 08:39 GMT |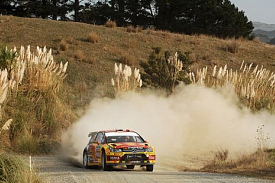 Rally New Zealand leader Petter Solberg says running first on the road tomorrow holds no fear for him.
The Norwegian ended Friday's nine stages 1.4 seconds ahead of Ford driver Jari-Matti Latvala. The second day of the event takes crews south of Auckland to stages which aren't expected to benefit cars running later as much as they did today.
"I'm not worried about anything at all," said Solberg. "My target is to contain the time loss to around 20 seconds tomorrow. I have been surprised that some of the guys further behind us haven't been a bit quicker today. I'd say it cleaned more today than it will tomorrow."
Local weather forecasters have talked about rain tomorrow and Solberg admitted that it would make his job easier.
"Rain would help me a lot," he said. "It would keep the surface together more. There would be less cleaning if it rained. But, hey, look, I don't mind. I'm first, I'm leading the rally and I'm not worried about tomorrow at all."
Asked if he'd been impressed with Loeb's performance on SS7, where he took seven seconds out of everybody, while running in the unfavourable first on the road slot, Solberg replied: "I'm not impressed, no. Loeb's times have been good, but nothing that I'm going to worry about.
"I can feel my confidence coming and coming with this car. And the car is also coming and getting better, it's improving bit by bit and I'm getting to know it better and better. This is certainly better than the last round, but still, there's more to come."
Ford's Mikko Hirvonen was tipped as the man to watch through the second day after running his Focus softer than he would have liked on Friday. He is just 20 seconds off the lead, but crucially is fourth on the road.
He said: "Tomorrow we will push like mad and see what we can do. Today hasn't been good, but tomorrow could be better."