Drivers deny using slowing tactics
| | |
| --- | --- |
| By David Evans | Friday, May 7th 2010, 08:34 GMT |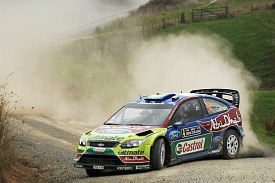 The leading contenders on the Rally of New Zealand have all denied using slowing tactics to improve their position on the road for the second day of the event.
The end of day service on Friday was full of rumour and speculation on the subject of tactics and who had or hadn't slowed to find a better place on the road for day two, but none of the drivers admitted they had slowed.
Petter Solberg said he was confident his main competitors had driven flat out through the stages, while Sebastien Loeb dropped time when he hit a bridge and essentially ruling himself out of the tactics debate - driving flat out to make up time.
"I don't think any of them have slowed down at all," said Solberg. "They could all see my split times and if you look at them, you can see they have all been pushing."
With the FIA and the event stewards ready to punish any driver taking a blatantly tactical approach and bringing the sport into disrepute, nobody would talk of slowing down to improve their road position.
Sebastien Ogier had led the event prior to SS7, and the former Junior World Rally champion was the driver most thought had backed off.
"We did slow down a little bit in the last two stages," he said. "There is no point in pushing the car too hard. The real rally starts tomorrow morning."
Asked whether slowing down had helped his road position - he starts tomorrow in third place - Ogier replied: "It's a better position than Petter [Solberg] or [Jari-Matti] Latvala, but not as good as someone like Dani Sordo."
When Latvala was asked why he'd dropped time towards the end of SS8 - the stage after which the running order is decided - the Ford driver replied: "I couldn't keep up with Petter. He was driving very well."
Asked to clarify his statement, he repeated: "I couldn't keep up with Petter. He was driving very well."