Interview with Sebastien Loeb
| | |
| --- | --- |
| By David Evans | Friday, May 7th 2010, 04:43 GMT |
After a troubled day at the head of the field on the opening leg of Rally New Zealand, six-time World Rally champion Sebastien Loeb is back in seventh place heading for the evening superspecial
AUTOSPORT caught up with Loeb to get his account of Friday's event.
Q. What exactly happened on the fourth stage this morning?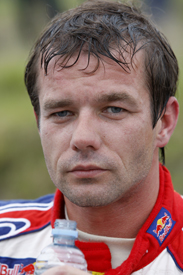 Sebastien Loeb: There was a right hand corner, which narrowed at a bridge. On the entry to the corner, I lost the rear of the car, it was my fault - I braked too late. The car slid and we hit the bridge on my side.
Q. Did you stop straight away?
SL: No, I carried on. I thought it might be okay, so we drove a little way. But then I had to stop, the door was open and I was going to lose the door. I knew we only had the remote service after the stage, so it was not going to be possible to replace the door for the team. I had to stop and try to fix the door myself.
Q. Did you get out and work on the car?
SL: No, not get out, but I had to loosen my belts and work down at the side of the seat. It wasn't easy, I had my gloves on and everything, I lost a lot of time, maybe one minute trying to get the door fixed. But then, it wasn't working, so I went again and held the door shut. The dust was terrible, though.
Q. Was it a big impact?
SL: Not really. It was a slow corner, maybe 40 or 50 km/h. It wasn't so bad, it was just the door.
Q. What had the road been like before that?
SL: Difficult. There was a lot of loose [gravel] around this morning. I had really enjoyed the roads, but I knew the times were going to be quicker and quicker behind.
In some ways, I'm a little surprised some of them weren't a bit faster behind; I didn't know if it wasn't cleaning so much or if I was just driving really fast. This is a nice rally, but this one stage was not so nice for me.
Q. What can you do now?
SL: We're more than one minute behind. I don't know. It's going to be tough.
Q. A podium?
SL: I don't think so. Okay, maybe it's possible, there's a long way to go, but when you look at the times this morning, the leading cars were separated by a couple of seconds - and I'm one minute and 20 seconds down.
Q. The drivers following you said some of your lines were quite wild...
SL: What can I do? I am first on the road and I have to sweep to find some grip. I was pushing, I was trying hard.