Button eager to see McLaren's true pace
| | |
| --- | --- |
| By Jonathan Noble | Thursday, May 6th 2010, 17:39 GMT |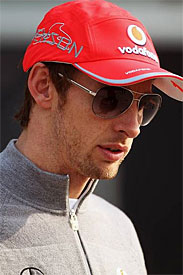 Jenson Button says McLaren's primary goal in the Spanish Grand Prix is to try and get some answers about just how far behind Red Bull Racing it is - which is why he is eager for a dry event.
Although showers are set to hit the Barcelona weekend, Button says he and his team are so much in the dark about how good their progress with the MP4-25 has been so far this season that he hopes the rain holds off so they can finally get some answers.
"It's important we have a dry weekend," said Button, relaxing with journalists in the McLaren motorhome at Barcelona on Thursday.
"If it's wet and we have a good race, it's great and we get some good points. But we need to know where we are, to work with the car we have and with the new parts we have. It's an important race for us, for everyone, this weekend, to know where they stand in comparison to others.
"We want to get the best result we can, but it is important for us for the rest of the year to know if we're going in the right direction with the car... I don't think it will tell us who is going to be at the front for the rest of the year, but for development purposes it's important for everyone to know where they are."
Although Button leads the championship standings after the first four races of the season, having taken two wins, he says the team is not kidding itself about the pace of Red Bull Racing.
"The thing we have to take away from the first four races is that we haven't had the quickest car," he said. "I would say the Red Bulls have had the quickest car, they have been quickest in qualifying - although I think our car was quick in the wet in China and it has been in other races as well.
"But over the whole weekend we haven't had the quickest car but we've come away with the most points, so we've had a good four races. Now though we have to start working on improving the car so we can challenge the Red Bulls.
"It is not always going to be like this, you cannot go through a whole season and not put it on pole and the front row and win the championship. It is going to be very, very difficult."
He added: "So we have our heads down. The last few weeks have been very, very busy even though we had the issue of all getting home. But I think that we have done a great job of bringing the new parts to the circuit. I don't know if it will be enough to really challenge with the Red Bulls, I really don't know, but I hope it is.
"We will get out there tomorrow, work with them and see if we can balance the new parts we have, because it is not just a matter of sticking the new stuff on the car and going a massive chunk quicker. You have to work with it, you have to balance it and that is what we will be doing tomorrow. You have to hope that our package is bigger than other people's, and I don't know if that is going to be the case. If it is not we will just get back there and work on improving the car for the next few races."
Button also believes that the experiences of his tough middle part to last season are helping him deal with the challenges of this year - and have helped keep the pressure off.
"I don't feel under pressure at all. I feel great," he said. "Last year in the middle of the season it was very tough for me. We had a situation where the car didn't really work in cool conditions and I struggled even more, because of the way I drive.
"So it was a tough time, but I think getting through that tough time really does help you when you start a new season in a new environment and are out of your comfort zone. Considering all that, I am pretty happy where I am, and having said that I know that I cannot rest. It is flat out from here on, because it could quickly turn around.
"But I don't think I could have wished for any more after four races this season. You always want to have a perfect weekend, you always want to have a perfect season - and the first race for me was not a very good races. It was a difficult race for me, so I still regret that race but that is the way I am.
"Within a championship year, when you are fighting for the championship, not all races are good so you have to try and forget about the bad races and concentrate on the good ones - and how you felt at the race weekend and before that race weekend. So heading into the next weekend, you come into it more confident and more relaxed."