Indy leaders want 'respect' in traffic
| | |
| --- | --- |
| By Matt Beer | Monday, May 3rd 2010, 10:47 GMT |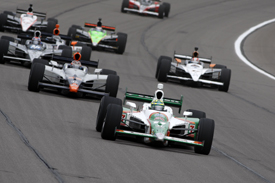 Reigning IndyCar champion Dario Franchitti and 2004 title-winner Tony Kanaan say there is no need for the Indy Racing League to adopt NASCAR-style double-file restart rules to get backmarkers out of the leaders' way - but that drivers must show each other more respect when being lapped.
Traffic has become a hot topic in recent IndyCar races, with Franchitti, Kanaan and Helio Castroneves frustrated by backmarkers as they tried to catch leader Scott Dixon in the closing stages at Kansas last weekend. In the previous race in Long Beach, Justin Wilson's pursuit of race leader Ryan Hunter-Reay was interrupted when Alex Lloyd turned in on him and broke his Dreyer & Reinbold Dallara's front wing while Wilson was trying to lap his countryman.
These incidents have led to calls for the IRL to take a tougher stance on lapped traffic, and possibly to follow NASCAR's example of moving lapped cars out of the way at restarts.
Franchitti said that IRL officials would have to start taking action if blocking continued.
"The backmarkers, again same as Barber, the race for one and two and three laps down is more important for the lead lap race," he said. "Running side-by-side, running you up into the grey, giving you absolutely no room to run at the front of the pack, that was very frustrating.
"I think it's up to the series to keep them in position and police them. If they continue to drive like that, then you're going to have to get them out of the way.
"In situations when I'm a lap down, I try and give the right-of-way to the lead-lap cars, especially three laps to go. Are they going to get the lap back, finish in the top five? I don't quite understand the thinking.
"It's almost a respect thing. It's not just about the more experienced guys in the series; it's whether they're rookies or whatever, the guys up front fighting for the race. You have to respect they had a better day, not interfere with that. We've seen two or three times this year where backmarkers have caused problems, big problems."
But he said his preference was for a tougher stance on track manners rather than changing to NASCAR rules and removing the lapped cars from the leaders' path on restarts.
"I don't know what goes on with the series and how they police that during the race," said Franchitti. "I have to be clear here. It's not a case of getting the backmarkers out of the way. That's not what I'm talking about.
"It's the situation where the backmarkers run side-by-side in front of you, the race track is only two lanes wide. You can't go into a third lane. There isn't one there. Eventually they block the track. That's one situation.
"The other situation, when you go down inside of them, they chop your nose out, they drive you up into the wall and the exit. That should not be tolerated for cars racing for position anyway, never mind cars that are two or three laps down."
Kanaan shared Franchitti's annoyance, and agreed that double-file restarts were not the answer - suggesting they would just cause more complicated yellows as the field was sorted into line.
"I think that's up to the drivers. I don't think [IRL competition president] Brian [Barnhart] or the league can control that," said Kanaan. "I would not like to see them take them out of the way like that. What are you going to do? It's going to be a big mess, take extra laps, this and that."
The Brazilian benefited from the traffic to snatch third from Castroneves on Saturday, but still felt the backmarkers' behaviour had been poor.
"This time it worked to my benefit, but it's still not right," he said. "I don't think a backmarker should set the finish for the top five guys, especially in a championship that is so hard.
"I don't think it should be up to the league. When it's three laps to go, you know exactly where you are. You know the second, third and fourth place guys are directly behind you and you're not fighting for position in front of somebody because you just don't have anybody to fight for. Why you are going fight us? That's the problem.
"Like Dario said, it's a matter of respect. I think it's half of the field that's been racing together for a long time and they know exactly what's going on. I will do it for him, he will do it for me. It's going to come back. Some guys I don't think understand that."