Q & A with Romain Grosjean
| | |
| --- | --- |
| By Simon Strang | Sunday, May 2nd 2010, 16:45 GMT |
Until halfway through last year, former Formula 3 Euro Series and GP2 Asia champion Romain Grosjean's career appeared to be on the up. But then his GP2 title campaign started to go awry just before he accepted a mid-season Formula 1 invitation from Renault, which ended in disappointment and the loss of his seat.
Ousted from F1 so soon, Grosjean has taken the unusual step of switching to the new GT1 World Championship with Matech Ford to reinvigorate his career. He explained his plan to AUTOSPORT.
Q. Is this a new career for you, a new challenge, or a stop-gap while you find your way back into Formula 1?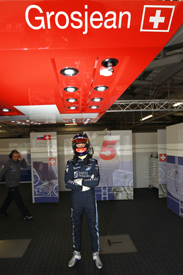 Romain Grosjean: It is not a new life, it is not forgetting Formula 1, I don't hide that my aim is to go back to F1 next year for sure. But on the other hand driving is my passion and it is my job as well. So when this opportunity came up... it's a world championship with some good cars.
It's a new experience for me and maybe for the future it can help. And for sure I'm still trying to get the good contacts and the good opportunities to go to F1 next year. But for this year this opportunity came up. It is not like I want to switch my ideal career. It's just one year, but I want to drive, I enjoy driving and when the chance came I thought it was good to take it.
Q. So you considered it to be more valuable to be racing rather than being a test driver for an F1 team?
RG: Yes. It is worse sitting at home and waiting. If you wait at home nobody will call you, but if you race your name is still around, you still meet journalists and this is very important.
Q. How it ended for you in F1 can't have been very satisfying, how disappointed are you with the way things turned out?
RG: When you look in detail at my results compared to Fernando [Alonso], as we say in French, I don't have to be afraid. I was two tenths slower sometimes, with a difficult car to drive and a difficult environment. So when I looked back I don't have any regrets. I gave my best and I think I did very well. It didn't show on the timesheets or the results, because we were 16th or 17th, but when I look at look back at it, I think I did a good job and I deserve a real chance.
Q. When you go back next time is there anything in particular you've learned from your first experience that you can use to take more advantage of another chance?
RG: For sure. I'm now stronger. It was a tough experience for sure, but I grew up a lot last year and if I go back to F1 that will help me. It's helping me today to race and to be a professional driver.
Q. There is a new regime at the helm at Renault, do you feel you could ever go back there, or would you want to go in a new direction?
RG: I think a new direction. Mr [Gerard] Lopez and Eric Boullier are doing a very good job this season so far. It is impressive to see Renault back near the top of the times.
Q. Frustrating for you?
RG: Yes, if I was in the car it would be different for me, but this is life. I have some good contacts with them and hopefully we can find something for the future.
Q. Are you talking to anybody at the moment?
RG: I will be in Barcelona and Monaco to have some meetings and see people and then we will see. It is only the beginning of the season and so far and there have been no big moves.
Q. How big has the adaption process been from formula cars to GTs?
RG: I think if you're open minded and you approach it with intelligence you can do it. When there is four wheels and one steering wheel, you brake late and accelerate early, you can do a good time.
Q. Do you think winning the FIA GT world championship would be the springboard you need to resurrect your F1 career?
RG: It cannot be a bad thing. Being the first person to become the FIA GT world champion would be good. I think it is a good experience to take, it is teaching me some new things. Maybe when I retire from Formula 1, and go back to GTs, at least I have one year of GTs and people will sign me.
Q. Are you looking at any other opportunities?
RG: There is Le Mans, the ALMS, there is DTM. There are many championships which are interesting when you open your mind. I guess the DTM is something very interesting. The Le Mans 24 Hours is fantastic and one of my dreams as well. GTs if it goes well and the championship grows could be very good too.
But at the moment F1 is the absolute dream for sure and if I can go back I will. But then I think you can still enjoy your life if it doesn't happen - ask Tom Kristensen if he is happy with his career and you will get the answer.
Q. The Ford has not been changed in terms of equalisation for Silverstone, how will that effect things?
RG: We didn't have any changes on the Ford but many other cars lost weight, gained weight, got a bigger limiter. At the moment we are not so good, especially with the 40kg of ballast after our win in Abu Dhabi.
Q. Is it going to be one of the series where certain tracks suit certain cars?
RG: Maybe. But hopefully the FIA will do a good job and we can have some equal cars and a good fight for the championship.
Q. What do you make of the new Silverstone?
RG: Well nothing special. I think we lost Bridge and the complex, which was very nice and we haven't gained much with the new parts. I'm not 100% convinced.
Q. Some of the fast kinks look tricky in a GT car.
RG: It is but with the single-seater cars... I think the Formula 3 cars are flat out and Formula 1 is going to be very fast as well and it doesn't give any new opportunities for overtaking really. That is a bit of a shame.