Courtney dominates Ipswich race one
| | |
| --- | --- |
| By David Wright | Saturday, May 1st 2010, 10:08 GMT |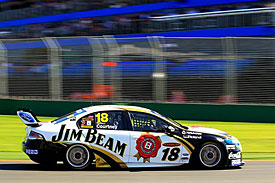 Jim Beam Racing's James Courtney made up for missing out on pole position by absolutely dominating the first race of the Ipswich 300 at Queensland Raceway, taking Ford's first win of the 2010 season.
Courtney took the lead from Garth Tander on lap four and never looked back, extending the margin by a second a lap, winning by over 13 seconds despite easing his pace in the closing laps.
Team Vodafone's Craig Lowndes took second after moving up in the opening laps, losing a place during the pitstops then passing three cars in six laps late in the race.
He just held off Shane van Gisbergen who fell to seventh by lap five and was still there after his pitstop, before he tore through the field, moving from seventh on lap 28 to third just seven laps later.
Fourth was a remarkable recovery for Jamie Whincup, starting by moving up to seventh by the time of his first pitstop which he took earliest of all. It paid off, vaulting him up to third after the stops, losing out to Lowndes and van Gisbergen in the closing laps but taking Tander with three laps to go.
Fifth must have been a little disappointing for Tander, having trailed only Courtney for the first three quarters of the race. In the end, he just held off Steven Johnson and Lee Holdsworth, the trio covered by 1.5 seconds at the chequered flag. Rick Kelly, Mark Winterbottom and Jonathon Webb completed the top ten, all three DJR cars making the top ten.
After a poor qualifying in 24th, Russell Ingall recovered well to finish 14th, one place ahead of Will Davison whose 2010 struggles continue, dropping eight places from his starting position.
Late-race contact with Michael Caruso saw Ingall's team-mate Greg Murphy spun from 16th to 23rd, though Caruso himself fell from 16th to 25th on the final lap. Todd Kelly finished last after a clash with Alex Davison damaged Kelly's steering.
Pos  Driver                Make                  Time
 1.  James Courtney        Ford Falcon FG        46m13.2975s
 2.  Craig Lowndes         Holden Commodore VE   +  13.4417s
 3.  Shane Van Gisbergen   Ford Falcon FG        +  14.8467s
 4.  Jamie Whincup         Holden Commodore VE   +  20.0612s
 5.  Garth Tander          Holden Commodore VE   +  21.7543s
 6.  Steven Johnson        Ford Falcon FG        +  22.2400s
 7.  Lee Holdsworth        Holden Commodore VE   +  23.2574s
 8.  Rick Kelly            Holden Commodore VE   +  26.4963s
 9.  Mark Winterbottom     Ford Falcon FG        +  32.9213s
10.  Jonathon Webb         Ford Falcon FG        +  42.0747s
11.  Tony D'Alberto        Holden Commodore VE   +  44.6873s
12.  Fabian Coulthard      Holden Commodore VE   +  45.7304s
13.  Jason Bright          Holden Commodore VE   +  48.8001s
14.  Russell Ingall        Holden Commodore VE   +  49.0249s
15.  Will Davison          Holden Commodore VE   +  49.3651s
16.  Tim Slade             Ford Falcon FG        +  54.1464s
17.  Daniel Gaunt          Holden Commodore VE   +  54.3871s
18.  Dean Fiore            Ford Falcon FG        +  54.6818s
19.  Jason Bargwanna       Holden Commodore VE   +  55.0666s
20.  Andrew Thompson       Holden Commodore VE   +  55.3215s
21.  Paul Dumbrell         Ford Falcon FG        +1:02.5761s
22.  Jason Richards        Holden Commodore VE   +1:03.5590s
23.  Greg Murphy           Holden Commodore VE   +1:04.1420s
24.  Karl Reindler         Holden Commodore VE   +1:04.8146s
25.  Michael Caruso        Holden Commodore VE   +1:14.6676s
26.  Tony Ricciardello     Holden Commodore VE   +    1 lap
27.  Steven Richards       Ford Falcon FG        +    1 lap
28.  Alex Davison          Ford Falcon FG        +    3 laps
29.  Todd Kelly            Holden Commodore VE   +    9 laps