Hill: Silverstone upgrade was needed
| | |
| --- | --- |
| By Jonathan Noble | Friday, April 30th 2010, 11:50 GMT |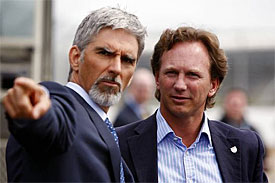 Silverstone believes the risk it has taken on with its planned £30 million revamp of the track over the next few years is more than justified because it has helped save the British Grand Prix.
With the track having officially opened its new Arena Circuit layout on Thursday, and plans well underway for a new pit and paddock complex to be finished as early as next year, Silverstone chiefs are investing heavily in making the venue better.
And although there is no guarantee Silverstone's owners, the British Racing Drivers' Club, will recoup its outlay swiftly, BRDC president Damon Hill has said there really was no other choice open.
"It's a necessary risk," he said. "The alternative was very possibly that the British Grand Prix would have gone off the calendar.
"There is a justification to demand first-class facilities if you have a first-class event like Formula 1, and others like MotoGP, but it has to make financial sense.
"We have been through one experience with Donington Park and it could be quite feasible that if the wrong financial decisions were made that you would end up with no British GP."
Hill admitted that the BRDC's finances were being pushed more to the edge than they had ever been before - and also said the club was pinning its future hopes on British drivers continuing to attract large crowds to Silverstone.
Speaking about how far the budget was being stretched, Hill said: "Not to the absolute limit but certainly stretching further than it has been stretched before. There was an understandable reluctance to take on too much risk, but event promotion and venue operating is a risk business.
"I've made my points clear I think over a number of times that I think that there is a case for some venues, particularly historical venues that have provided a really unique challenge in terms of the challenge to the sport, to be given a deal that given them a chance to develop.
"But we are where we are. It is all full steam ahead, there is no way back from here. And we've been lucky and we are really relying a little on this country's tradition of producing world-class drivers who potentially drive people through the gate.
"We've had them on a consistent basis since before the last war, and the whole time grand prix racing has been in existence, but there was a lull between Hunt and Mansell but we are trusting that we will continue to be at the front of the sport."