Schumacher cautious on upgrades
| | |
| --- | --- |
| By Pablo Elizalde | Friday, April 30th 2010, 10:17 GMT |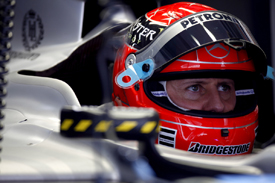 Michael Schumacher has warned not to expect his Mercedes team to be fighting for victory at the start of the European season, despite the upgrades to be introduced in Spain.
The seven-time champion, however, reckons there is plenty of potential in his team and is pleased with the way Mercedes has been working to move forward since the start of the season.
"I see a lot of potential here especially as our team has been reacting very well over the past four races," said Schumacher in a team preview ahead of the Spanish Grand Prix.
"We have worked on general improvements to the car, as well as specific developments in downforce and efficiency, and I am confident that we have room to make further progress in the future.
"Our step forward in Barcelona will be bigger than you can make at each race during the flyaways but it would not be realistic to expect us to suddenly be competing right at the front."
The German, who has been so far overshadowed by team-mate Nico Rosberg, is hopeful he will be able to enjoy a better race in Barcelona next week.
"I am hoping for a better race in Barcelona than I had in China and of course I would not mind having had better results so far," he said.
"However the good news is that after three years away, I am feeling extremely motivated. So I am clearly ready to take this challenge."