Q & A with Mark Webber
| | |
| --- | --- |
| By Jonathan Noble | Thursday, April 29th 2010, 14:44 GMT |
Four races into the season, Red Bull Racing has looked as the team to beat, yet it has missed several opportunities to be leading the championship.
Mark Webber reckons the team has only itself to blame and must do better.
AUTOSPORT heard from the Australian during the launch of the new Silverstone circuit.
Q. So what do you make of the new track layout then?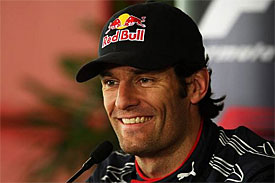 Mark Webber: The good thing is that they kept all the good stuff. Obviously Bridge was a nice corner but I think you cannot have everything. The first section of the lap is brilliant. They always knew that and they haven't touched that, which is great. Stowe is an absolute cracker, and the new kink off the back straight, that looks very quick. They have some interesting new corners. The real tight section [from Village Corner], that is probably going to be the point where there might be a bit of niggle and overtaking potential.
They have also had to incorporate it in with the bikes as well, which they had to. You cannot just say, we only have one event here per year. This is a track that has to incorporate all different types of motorsport - and the top level of both bikes and cars. It gives it tremendous stability for the future when you do that.
Q. Is it good that Silverstone opted to keep the big ballsy stuff in as well, because a lot of new tracks seem too keen to go for second gear corners?
MW: Absolutely. When I heard them initially saying they were going to change the layout, I thought: 'Here we go, they are going to open up the Tesco's car park again.' But they haven't, which is great. They have got a really challenging circuit and the car as well – there are not many tracks you go to, of the new ones, where the car is being tested at fifth gear and above in the corners. This track certainly does that.
Q. So is it the best of both worlds for bikes and cars then?
MW: Yeah. I can't talk on behalf of the bike guys, but I think it will be a sensational track for the cars. For bikes, I hope it is what they like. I am sure it will meet a lot of their requirements as well.
Q. Is it as good as any race track in the world now?
MW: Well, let's be honest – the track hasn't changed massively and Silverstone was always a brilliant circuit. A brilliant circuit! And the changes they have made have really been mainly for overtaking. They have put that new little section in to encourage some overtaking and create some pressure, because the next part you have to come back on yourself. They have certainly tried to make it right.
Q. Were you ever a fan of the old complex?
MW: Priory wasn't a bad corner because it was a bit blind and had some undulation to it, so you couldn't really see the Apex. The Abbey Chicane was a bit of a non-event, but Bridge and Priory wasn't a bad section. I think that we will have that also now, with that quick kink and coming around, braking to the other point, that is going to be good.
Q. Overtaking, is it going to be possible?
MW: Silverstone always in the past has been notoriously bad. The changes will make it better. It is coming from a bad point, I know, but it can only go in the right direction. It is not going to be Sepang yet, it is not like that, but it is going to help overtaking.
Q. And the perfect Red Bull stomping ground?
MW: All of the tracks are - unless the bloke upstairs turns the hose on every now and again! We are optimistic at all venues now. We have seen the car is quick everywhere, we just need some clean Sunday afternoons really. The scoreboard never lies. We are not where we want to be, but we want to improve and people who have got the results this year have got them because they deserve them – ie. Jenson Button. We need to do a better job when the sheep stations are up for grabs.
Q. The last three races have been brilliant because of the weather. Are we looking at a return to the norm for the next two?
MW: Can do, yes. We know Malaysia was a very good race because we had Lewis [Hamilton] out of position and Jenson, Fernando and Massa down there in qualifying. In Melbourne, five minutes of rain can turn the whole race on its head, which it did. And Shanghai obviously was a different grand prix. It rained for a long period of time and there were lots of different things going on so, whether it as bad as Bahrain in the future we will see, but I doubt it. I still think we will have some good races.
The F-Duct has been good for the racing as well. We have seen some overtaking, but whether it is mega skilful? With KERS you push the button and get a top speed advantage, but at the end of the day it is overtaking and it is good for the sport that people can overtake because we don't get much of it nowadays.
Q. When we come back here in July do you think it will stay as tight as it is now, or do you think one of the teams will have broken away?
MW: I don't see one team breaking away at that stage. I think it will be pretty tight between all the teams – Mercedes GP is there too. It is going to be who is doing the most consistent job. For a team to be breaking away, of course I hope it is us, but I don't think it is going to be easy.
Q. What will the atmosphere be like here in July, with the British team of Jenson and Lewis, but also your team's home track coming off the back of last year's 1-2?
MW: It has always been a sensationally well attended event. I think we had the Mansell era, then Damon, then Johnny and David. You have always been a spoilt nation in terms of success behind the wheel. Yes people are interested in teams to a point, but let's be honest – people are more interested in drivers. The drivers with Jenson as a world champion and Lewis as a world champion in the same team, potentially coming here as leaders, who knows? They are going to go crazy for sure, but we still all know they buy Red Bull merchandise.
Q. What are the key things you think your team has to do better that it hasn't got right so far?
MW: Consistency mate is the big thing. That comes with executing clean Sunday afternoons. You could write a dossier of where things could be improved, but so could Ferrari. There is not any team that has come away from the first four flyaways and gone, 'yeah, we've left nothing on the table,' Every team has, and we have. And we are looking to address them as quickly as we can. There are lots of things.
Q. What about you personally?
MW: It can take one weekend. We know the points system fluctuates very, very fast. The middle part of the championship last year for me was very, very good, and that is what I am looking to do again but with a different result at the end. I want to keep going and keep finishing. Melbourne didn't go our way – but as I said, altogether, drivers and team, we know we would have liked to have done a bit better. But we didn't deserve it. You get what you deserve. We are looking to do better.
Q. Are you more wary of any one of the other three big teams at the moment?
MW: I think all three are dangerous. And it can change quite quickly.