Coulthard gives Arena the thumbs-up
| | |
| --- | --- |
| By Simon Strang and Pablo Elizalde | Thursday, April 29th 2010, 13:39 GMT |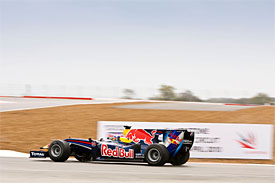 David Coulthard gave the new Silverstone layout the thumbs-up after becoming the first driver to complete a lap of it with Formula 1 machinery.
"It's typical Silverstone," said Coulthard, who completed six laps of the new Arena circuit that will host this year's British Grand Prix.
"I've loved every Silverstone, even the fiddly complex, because it is as close as you get to an amphitheatre in British motorsport other than Brands Hatch. With all the grandstands and the BRDC centre, you got to show the crowd the cars for a while.
"It's Silverstone, this is this place for the British Grand Prix, and as much as I enjoyed racing at Donington when I was younger, I just think we are so used to coming to this area and celebrating in July," he added.
Former grand prix driver Coulthard believes the new layout could help improve racing around the British track.
"It might take us a step closer to good racing," he said. "It's always difficult to tell until you really drive a proper line at speed. But the corner out of Club, the Abbey kink, and the kink out of Aintree might be the areas, where if they are not flat, drivers can make a mistake and someone can get in their slipstream.
"Otherwise it's the same, the start finish straight is the same, Copse is the usual mighty corner - a real opener that you drive right on the edge."
Speaking about the track, he said: "Club is now a very defined double apex. Before it just had one apex but now there is one apex, and then another one. So in the damp you can imagine someone having a bit of a wobble there.
"When you come out of The Loop there is another little kink [at Aintree Corner] and I'm hoping that won't be flat. If it is flat then it does nothing, but if it isn't then maybe someone can get a run down in to the braking area at Brooklands.
"It is a very wide entry there and F1 cars take a narrower line than a touring car or whatever, just because of the nature of the cars. But if you did make a mistake there then that could also lead to overtaking.
"Otherwise it's the same. There has been a small realignment at Maggots, but nothing major. Abbey is now a very fast corner. I think Village is more likely to be a spectator area than a spectator zone."