Silverstone eyes '11 for new pit complex
| | |
| --- | --- |
| By Simon Strang and Pablo Elizalde | Thursday, April 29th 2010, 13:22 GMT |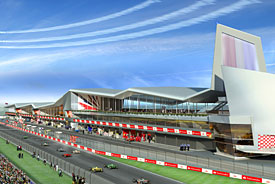 Silverstone's managing director Richard Phillips is confident the new pit complex will be ready in time for next year's British Grand Prix.
"We're on programme for that at the moment," Phillips told AUTOSPORT during the official unveiling of the new Arena layout where this year's race will take place.
"Everything is looking good for that. Contractually we don't have to be finished until 2012, but we would really like to get the job done now and move on."
He added: "The pitwall is in already. The steel is coming on site in the next few days, and by this year's Formula 1 Grand Prix we hope to have that up.
"It's on plan at the moment for a delivery around April/May next year but then it has got to be bedded in for the first race, which will be the F1 grand prix in 2011."
Phillips is hopeful next year's F1 race will be first one to be run new pitlane and startline.
"We are quite excited about it because we already have the existing pits and some of the racing will start on there and finish up on the existing pit straight and then we will have the F1 paddock down here at the new building, so we will have a start and finish down here.
"All operated from one race control. So it going to be a very interesting time, but of course much more interesting for the public."
And he reckons Silverstone will overtake Monza as the quickest track in the world thanks to the new layout.
"That's what the simulations are telling us, but until we have actually held a race we won't know for sure. Simulations are one thing, doing it for real is something else."