Gronholm rules out Portugal entry
| | |
| --- | --- |
| By David Evans | Thursday, April 29th 2010, 09:06 GMT |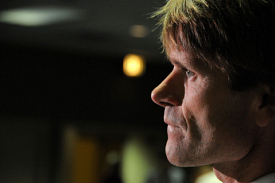 Marcus Gronholm will not contest next month's Rally of Portugal, despite speculation of a late entry for the double world champion.
Last year's Faro-based event was Gronholm's first World Rally Championship event back since he retired at the end of 2007. The organisers paid for Gronholm to drive a Subaru Impreza WRC on last year's event, when he rolled out after a promising start, and had been ready top put together a similar deal for this season.
Gronholm also drove a Ford Focus RS WRC 08 on this year's Swedish rally. But he admitted finishing 21st after an electrical problem and a puncture on the 2010 season-opener had made him think long about returning.
"I need more time to test the car if I am going to come back like this," said Gronholm. "It's not enough to find the speed again with a couple of days. People ask me about doing Finland [Rally Finland] again, but I don't know.
"When I stopped, in 2007, I was on the top and I went out of Finland a winner. I would hate to come back and sit in fifth or sixth place, that would be s*** for me. Sweden this year was on the limit, there wasn't really enough testing and the car wasn't the last specification."
Gronholm admitted other events were more attractive than Finland, adding: "Portugal and maybe somewhere like Rally GB, it would be easier to be quick than going straight back to Finland. There was something possible for Portugal this year, but it's not happening. If I can get the right car and a good test, maybe it's interesting."
Gronholm has limited opportunities to compete this year as a return to the Pikes Peak hillclimb has been scratched as a Ford Fiesta can't be built in time for him.
"That's a shame," said Gronholm. "It was fun driving that car last year."