Hunter-Reay cautious on new titles
| | |
| --- | --- |
| By Matt Beer | Wednesday, April 28th 2010, 11:15 GMT |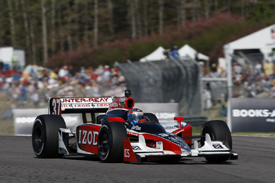 IndyCar race-winner Ryan Hunter-Reay has welcomed the Indy Racing League's introduction of new mini-championships for the road course and oval portions of the season, but thinks the additional titles will ultimately be an afterthought for fans.
In addition to the overall championship, in which all 17 rounds counts, there will now be a separate points contest crowning a champion of the eight oval races and one for the nine road/street course events.
Hunter-Reay, who was victorious in the last round in Long Beach, welcomed the move, but doubts it will have much impact.
"I think it's great to highlight the fact that we do have two completely different disciplines of racing within one series," said the Andretti Autosport driver. "It's the only racing series in the world that does that with the street courses, road courses, mile-and-a-half super speedways, and short ovals.
"So it's great to highlight that and give it some recognition, but really what matters is winning is the Indy 500 and winning the series championship. I don't think anybody has heard that and is like, 'Okay, my primary goal is to win the road course championship or win the oval.'
"I think it's kind of a side note. 'Congratulations, you were the best in that category.' But what real matters is the series championship and Indy 500."
Series boss Randy Bernard said his hope is that the new contests will develop new storylines and make the championship more interesting.
"I kept saying to myself we need to be able to deliver a consistent message about our sport that separates us from other forms of auto racing," he explained.
"What hit me is that we have the fastest and most versatile drivers and race cars in the world - and no one can deny that - and now we have to show why we're the fastest and most versatile. We have 17 events, but how do we create better storylines?
"I think there are two different demographics. I'd be willing to bet you that the oval demographic is more like a NASCAR audience opposed to a street/road course demographic that is considerably different. How do we attract both of these, how do we bring them together and how do we create storylines that allow for a great ending to our season?"