Montoya fears Chase is slipping away
| | |
| --- | --- |
| By Diego Mejia | Saturday, April 24th 2010, 08:28 GMT |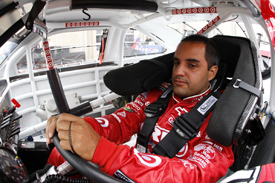 Juan Pablo Montoya believes only victories and top-five finishes may allow him to get back in position to make this year's Chase for the NASCAR Sprint Cup.
The Colombian had yet another disappointing outing last Monday at Texas, where he retired after crashing heavily while trying to avoid a multi-car accident in the closing laps of the race, when he was running 14th.
The Earnhardt Ganassi racer has two DNFs in eight races, but incidents and mechanical problems have hampered him in at least three other events where he got low scores.
His three trouble-free events have given him a third, a fifth and a 10th place at Atlanta, Phoenix and Daytona respectively while his pace has allowed him to lead laps in most races.
The 34-year old says he is enjoying his current level of performance although he is obviously frustrated with the results - which have left him 24th in the standings at present.
"I think I have led five or six out of the seven races. It is crazy," says Montoya. "We've had three finishes, two top fives and a top 10 with cars that a bad weekend was a top 10. Yes, we have the cars to do it, but, you have to have the luck to be able to get the results. It is kind of frustrating.
"I kind of understand what Kyle [Busch] went through last year. He won I don't know how many races and didn't make the Chase. I don't think it is over yet. We just have to keep working on it and see what happens.
"I can tell you I am enjoying myself. I would love to be higher in the points but we have good race cars. And that is worth more than everything."
The driver's crew chief Brian Pattie had laid out a plan for the team this year based on an average number of points per race, in order to safely be inside the top 12 in the standings before the Chase starts. Montoya says their string of poor scores have led them to throw that plan out the window.
He believes the only way for them to get back in the run to make this year's Chase will be winning races and finishing consistently in the top five.
"[Pattie] isn't even looking at the numbers, I can tell you," said Montoya. "After last week, I asked 'where are we?', he said 'I don't know, I don't care, let's just go out and try to win some races'. If we want to try to make the Chase, we need top fives and wins. That is only way we are going to make the Chase.
"If we start running 10th or 12th every week, there is no way we are going to make it."
Montoya has yet to win a Cup race since he claimed victory at Sonoma in his debut season. He has finished second three times in his Sprint Cup career, one of them two years ago at Talladega, where he claimed his first NASCAR pole position a year ago.