F1 equipment expected in Europe today
| | |
| --- | --- |
| By Jonathan Noble | Thursday, April 22nd 2010, 11:56 GMT |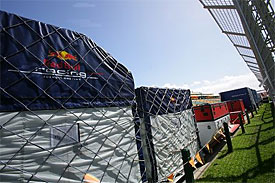 Formula 1's car and equipment are expected to land back in Europe later today, following the air chaos delays caused by the Icelandic volcano, easing fears that teams faced a major headache to get ready in time for the Spanish Grand Prix.
Although a large number of team personnel and other F1 staff are still trapped in China as airlines try and find available space on planes, teams will at least breath a sigh of relief that cars and equipment are now on their way back.
The FOM freight planes, which are used to ship the equipment, had been trapped in Europe until earlier this week, but airspace restrictions meant they were able to get out and head to Shanghai.
After getting the planes loaded yesterday, they are due to get back to the UK later today - when more team personnel are also expected to return
Red Bull Racing team principal Christian Horner said: "The cars and freight will arrive back today, probably beating the team home by an hour or two."
Although the loss of a few days may not seem a lot, with teams planning major upgrades for the Barcelona race then time was always going to be tight to turn the F1 cars around after four races on the road.
But Horner believes that the extra week's gap in the calendar meant there would be minimal disruption.
"Thankfully, the way the calendar is with the extra week between the Chinese and Spanish Grand Prix, it has a very limited impact," he said about the delay. "There's still over a week to turn the cars around and a lot of the components for the next race are produced here in the factory.
"The factory hasn't been affected - obviously the turnaround components are a little bit out of sync now coming back two or three days late, but with the additional week, we're confident it won't cause us any major issues."
With air schedules getting back to normal, the return of the freight and staff to Europe will also erase any concern that the Spanish GP could be under threat.