De la Rosa: Key a big boost for Sauber
| | |
| --- | --- |
| By Jonathan Noble and Pablo Elizalde | Wednesday, April 21st 2010, 09:45 GMT |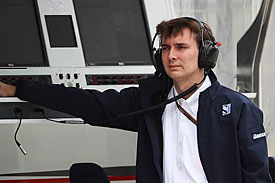 Pedro de la Rosa believes James Key's arrival at the Sauber team has been a big boost for the Swiss squad.
Key started working as technical director of the Hinwil-based squad in last weekend's Chinese Grand Prix, having left the Force India team earlier this year.
The 38-year-old Briton is now aiming to raise the performance of the team following a slow start to the season.
De la Rosa reckons Key's experience will be crucial for the team.
"James is a very good guy. He has a great understanding of what a car needs to be quick and he's bringing huge experience," de la Rosa told AUTOSPORT.
"Although he's young he's very experienced. I think he's a big asset for us. I'm really looking forward to working with him.
"He's the right guy and already during the weekend you realise he knows what he's talking about. He knows now which are our weakest points and he's already on it."
He added: "It's very positive always in this business to have fresh ideas from people who have worked on different environments, different cars. And more importantly he knows what a quick car needs in this modern Formula 1.
"That's why is so important to have new people joining every now and then. If you look a the big teams, every year or every two years they have fresh people coming from other teams. I think it's a very good move from Sauber to sign him."
The team is yet to score a point this year, with a sole race finish in four grands prix.
De la Rosa says the updates to be introduced in the Spanish Grand Prix will be very welcome.
"We have an upgrade. It's a sensible upgrade that we'll be happy to get," he said.