Kovalainen pins hopes on Spain updates
| | |
| --- | --- |
| By Jonathan Noble | Tuesday, April 20th 2010, 15:42 GMT |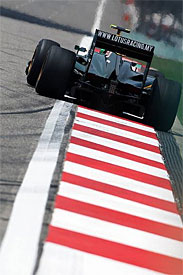 Heikki Kovalainen believes that Lotus's major upgrade plan for the Spanish Grand Prix will be a key indicator of how the team will perform over the rest of the season.
Lotus believes the major revamp of its car could be worth more than one second per lap - which could lift the outfit onto the back of some of the current teams.
And Kovalainen thinks that if such improvements are realised, then it could lay the foundations for a strong remainder to the season.
"It is a fairly significant step and a significant turning point for us," Kovalainen told AUTOSPORT. "If the package delivers what it should do and what it will do, then it will move us further to the front and will take away from the other new teams.
"Hopefully then we can get the design team and the production team to bring new parts regularly. Maybe not as big improvements but still improvements, and then we will be on a flow, to make further improvements."
Kovalainen is convinced that the updates planned for Barcelona are more than a team would normally bring for the start of the European season.
"For sure it is a bigger step than normal, but never underestimate the other teams and what they can do," he said. "But I think hopefully it is bigger than normal.
"We are starting from further back so we have more scope to have bigger improvements, and after that the improvement rate will flatten a little bit. The top teams are finding these last bits that are very difficult.
"And it will be interesting to see what the other new teams can do. Hopefully we can jump them more there. That is the ideal."