Massa plays down pit entry incident
| | |
| --- | --- |
| By Jonathan Noble | Monday, April 19th 2010, 14:56 GMT |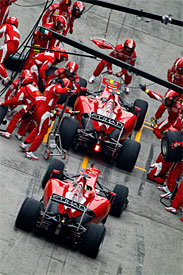 Felipe Massa insists that he had no problem with the way that team-mate Fernando Alonso muscled him out of the way during their fight for position in the pitlane entry in the Chinese Grand Prix.
The Brazilian was forced to take to the grass after Alonso lunged down the inside in the pit entry at Shanghai - crucially giving himself track position advantage for the stacked pitstop.
But although Alonso's move looked slightly aggressive, Massa said he was not upset about what happened because he had effectively lost the place with a poor exit from the previous hairpin.
"I didn't do a great hairpin definitely, and then he got his car alongside me," he said. "I didn't know he was coming into the garage as well, and then when I saw him inside there for sure I didn't want to risk creating an accident. But everything started at the exit of the hairpin."
When asked if he thought Alonso had pushed the boundaries of what he thought was acceptable, Massa said: "I don't know. He was inside so there was nothing I could do there. In terms of the rules, I don't know. I think he should be okay because we saw another car doing the same. You need to ask Charlie [Whiting] not me."
The Spaniard said he saw nothing controversial about his move.
"I believe it was a pretty normal thing," he said. "I knew that when two team-mates are fighting there are rumours. If it was two different cars there wouldn't be a problem. I think Felipe had too much wheel-spin on the final corner and I had a bit of an advantage in the pitlane entry."
Ferrari team boss Stefano Domenicali said he did not think the Alonso/Massa move was too close for comfort.
"When you are racing, then for sure all of the manoeuvres can be seen in that way – no discussion," he said. "But I have to say that Fernando, he is a racer, and I have to say that Felipe behaved very, very well.
"It is not easy, and I can understand what could be his feeling, but this episode has not changed our philosophy and for me that is the most important thing."