Q & A with Eric Boullier
| | |
| --- | --- |
| | Monday, April 19th 2010, 12:45 GMT |
Conducted and provided by Renault's press office.
Q. Eric, we saw another topsy-turvy race in difficult conditions yesterday, but the Renault F1 Team once again took full advantage. What's been the secret to the team's success?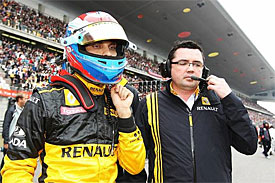 Eric Boullier: We've managed the most of each opportunity that's come our way. I think a lot of it comes down to the fact that this is a real racing team: everybody is focused on the racing, and only the racing. Having said that, we're not getting complacent, either. The line between 'hero' and 'zero' is incredibly thin in Formula 1.
Q. In China, the team scored points with both cars for the first time. How pleased were you for Vitaly?
EB: Vitaly put in a great drive. At the beginning of the race, the conditions were very tricky. Some parts of the track were wet, some weren't, and it's never easy for a rookie when the conditions are changing all the time. But once everybody got onto the same tyres in the second half of the race, he just got faster and faster - in the final laps, he was the quickest car on track.
Q. Does his performance also show that the team's decision to put its faith in him was the right one?
EB: We know that he has some very strong qualities: his speed and his calmness under pressure. You always have to give young drivers time. Kobayashi and Hülkenberg, the other rookies in established teams, have struggled to finish races and score points this year, and they both have more experience in an F1 car. Yesterday, Vitaly was finally able to show his true talent. It demonstrated that once he has confidence in the car, he can be very quick indeed.
Q. What about Robert's race: he was running third in the first half of the grand prix, and ultimately finished fifth. It looked like another strong drive from him?
EB: It was what I'd call a typical Robert drive: he was simply perfect, once again. He lost out under the second safety car period, which was something of a frustration, but then he looked after his tyres at a good pace and scored the maximum possible number of points. He did another excellent job.
Q. The team has brought technical updates to every race so far this year. Is that aggressive development now beginning to pay off?
EB: Yes, I think so. Everybody is working incredibly hard at Enstone, at Viry and at the track. The race team deserve a special mention this weekend: they worked long hours all through the weekend, and did a fantastic job to prepare Vitaly's car for qualifying after his accident in third practice. Our first two-car points finish was a great reward for their efforts. In terms of development, we're clawing back a tenth here and a tenth there at each race.
It takes a little while for the progress to be visible out on track, but looking at the situation race by race, we're getting steadily closer to pole position. After all, Robert was able to split the Mercedes for the first time in qualifying in China, which was very encouraging for the whole team. Everybody is pushing themselves to the limit and the hard work is beginning to pay off.
Q. Traditionally, Barcelona marks the point when teams bring big upgrade packages to their cars. What will Renault be introducing in Spain?
EB: It will be more of the same from us: we will maintain our rate of development. There will be more new parts that should help us gain a few tenths, but we don't know what the other teams will bring, so we must be cautious in our expectations.
There's every possibility that the competitive hierarchy could shift, perhaps to our advantage, perhaps not. The first priority will be to get the team home over the next few days, as well as the cars and the freight, and then to get everything to Barcelona. Once we've managed that, we can start looking forward to the beginning of the European season.