Whitmarsh says McLaren needs big push
| | |
| --- | --- |
| By Jonathan Noble | Monday, April 19th 2010, 09:03 GMT |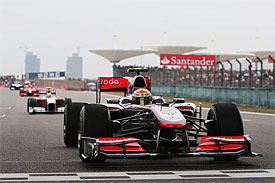 McLaren team principal Martin Whitmarsh thinks his team needs to push 'very hard' to improve its car if it is going to keep its advantage at the head of the world championship.
After a brilliant 1-2 finish for Jenson Button and Lewis Hamilton, McLaren grabbed the lead in both points tables and left early-season pace-setters Red Bull Racing and Ferrari ruing the missed opportunities of the opening flyaway races.
But despite wining two of the first four races, Whitmarsh thinks that McLaren must improve the speed of its car - especially in qualifying terms – if it is going to catch up with Red Bull in particular.
"We need to develop our car quicker than the others," Whitmarsh told AUTOSPORT. "I think Barcelona is a challenge. I am sure the teams are going to step up with upgrades on the car, and we have to push very hard to see if we can go there with a bigger step than the others.
"I think in racing we are closer to the Red Bulls. In qualifying we are still behind the Red Bull. They are the fastest in qualifying and this is a development race now. We have given ourselves the foundation at the flyaways, but we are back into Europe.
"We now have to really push hard and keep reliability, which you cannot take for granted, keep racing well and keep developing the car. If we do that we can win these championships. That is what we have got to try and do."
Whitmarsh has also praised the efforts of his team and drivers in helping deliver such a healthy number of points in the first races of the year.
"It is testament to the team and the drivers," he said about the fact his team was leading the championship despite not having the quickest overall car. "I think here in qualifying we had the second fastest car. I think here we were slower still than Red Bull. I think we underperformed in qualifying and didn't make it easy for ourselves.
"We are a race team, I think we are not a bad race team. We don't always get it right, but we make decisions and we get on with it. We have two drivers who are great racers. They are part of the team and have made a massive contribution, and I think the team as a whole has worked together to try and get the maximum number of points we can."
When asked whether Button's great start to the year had surprised him, he said: "I don't think so. It is not surprise. Jenson has done a fantastic job with the team, and I think he is a mature world champion with a lot of experience.
"He has had some tough times in his career and has clearly learned from it. How he has conducted himself in the team, how he has formed a relationship with Lewis, how he operates out on the track is just fantastic. Here we are, four races in and he has won two of them.
"No one who watched those races could say anything other than he thoroughly deserved to win them. They were driver wins – races where the driver had to make a difference and he did make the difference."