Schumacher downcast after tough day
| | |
| --- | --- |
| By Geoff Creighton and Pablo Elizalde | Sunday, April 18th 2010, 10:33 GMT |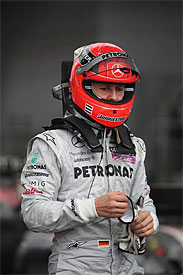 Michael Schumacher admitted he endured "too many bad emotions" during the Chinese Grand Prix, where the German struggled to finish in 10th.
Despite making the right tyre call early in the race, the seven-time champion was not competitive enough and dropped down the order, eventually managing to score one point.
Mercedes team-mate Nico Rosberg finished on the podium, nearly a minute ahead.
"As you imagine, there were some good emotions but there were unfortunately too many bad emotions," Schumacher told the BBC.
"Actually at the beginning I thought we were quite clever when some others changed for intermediates but it turned out to be the wrong decision [for them].
"But, quite honestly, I think all weekend didn't work out for myself. I think you have to compliment the English team [McLaren] and say congratulations to them - done a great job.
"I had a nice battle with Lewis at some point, some nice kissing to each other. But, nevertheless, they've done it. Even congratulations to Nico, who made it up to the podium so at least one of us scored good points."
Schumacher said he had to get used to this year's intermediate tyres, which he reckons are quite different from the one he used to have before his retirement.
"Again it is a new condition and these intermediates are slightly different to what I know from the past and you have to pace yourself dramatically in order to keep them alive for long enough.
"Difficultly was, with the weather, to predict how long the rain is going to last or not going to last, do we change back to dries, how quick you can push. So, it's a new experience for me."