Grosjean crowns GT debut with win
| | |
| --- | --- |
| By Gary Watkins | Saturday, April 17th 2010, 18:44 GMT |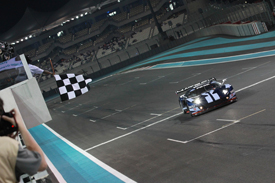 Matech Ford drivers Thomas Mutsch and Romain Grosjean dominated the main event at the opening round of the new FIA GT1 World Championship at the Yas Marina Circuit in Abu Dhabi.
Mutsch led from pole position in the lead Matech Ford GT until stopping early in the pitstop window.
Grosjean then emerged from the round of mandatory stops with a narrow lead over Marc Hennerici in the second-placed Phoenix/Carsport Chevrolet. The former Renault grand prix driver was on new tyres and was able to pull away from with ease.
He was more than 20 seconds in front when the chequered flag fell after one hour of racing.
Grosjean, who was celebrating his 24th birthday in Abu Dhabi, said: "I knew I had to push hard for the first two or three laps of my stint. He was closer than I thought [after the stops], but my car was very good and I was able to drive my own race."
Hennerici's team-mate, Andi Zuber, vaulted from 11th on the grid to fourth by the end of the first lap. He quickly moved up to third and then managed to take Vitaphone Maserati driver Andrea Bertolini just before Mutsch stopped.
Phoenix/Carsport also claimed third place with Mike Hezemans and Andrea Piccini, who started dead last on the grid.
Piccini took third from Michael Bartels, who shared the best of the Vitaphone Maseratis with Bertolini, with five laps of the race remaining.

Pos Drivers                 Team/Car                 Time
 1. Grosjean/Mutsch         Matech Ford              1h01m14.892s
 2. Zuber/Hennerici         Phoenix Corvette         +    23.061s
 3. Hezemans/Piccini        Phoenix Corvette         +    26.485s
 4. Bertolini/Bartels       Vitaphone Maserati       +    34.075s
 5. Zonta/Daniel            Reiter Lamborghini       +    49.496s
 6. Ramos/Bernoldi          Vitaphone Maserati       +    53.059s
 7. Bobbi/Longin            Triple H Maserati        +  1m00.565s
 8. Haase/Kox               Reiter Lamborghini       +  1m12.694s
 9. Margaritis/Heger        Triple H Maserati        +  1m24.473s
10. Müller/Maassen          Mad Croc Corvette        +  1m26.254s
11. Turner/Enge             AMR Aston Martin         +  1m26.848s
12. Campbell-Walter/Hughes  Sumo Power Nissan        +  1m28.174s
13. Leinders/Martin         Marc VDS Ford            +  1m37.634s
14. Moser/Wendlinger        Swiss Nissan             +  1m59.534s
15. Salo/Kuismanen          Mad Croc Corvette        +  2m01.150s
16. Krumm/Dumbreck          Sumo Nissan              +     1 lap
17. Basseng/Jäger           Münnich Lamborghini      +     4 laps
18. Piccione/Hirschi        AMR Aston Martin         +     6 laps
19. Makowiecki/Dumas        AMR Aston Martin         +    13 laps
20. Pastorelli/Schwager     Münnich Lamborghini      +    16 laps
21. Ara/Nilsson             Swiss Nissan             +    27 laps