Whincup scores victory in race one
| | |
| --- | --- |
| By David Wright | Saturday, April 17th 2010, 12:45 GMT |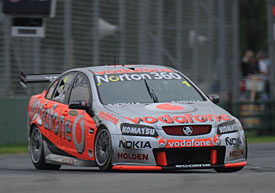 Team Vodafone's Jamie Whincup followed on from pole position with victory in race one of the ITM 400 on the streets of Hamilton in New Zealand.
However, he didn't have it all his own way, losing the lead to Garth Tander on lap six before moving back ahead during the first round of pitstops. Whincup then opened a five second break after the second round of pitstops only for it to disappear with a safety car period at three-quarter distance.
But when racing resumed Whincup pulled away to take the win, on his way setting a fastest lap that all but equalled his pole position time despite having 50-lap old front tyres.
Tander took second place but also was made to work for it. After dropping to third during the opening round of stops, when he ran longer, he was right on James Courtney's tail before a lock-up at turn one on lap 34 of 59 cost him two seconds.
Tander pitted immediately, with Whincup and Courtney pitting the next lap. Courtney lost out badly after having to wait for cars to pass in the 'fast' lane of the pits before he could exit his pit.
Running third well behind Tander, Courtney's hopes of a better finishing position looked all but over until the safety car came out, having moved up four places to second during the first round of pitstops after pitting early, moving up well from his ninth position on the grid.
He then pushed Tander and looked like he might make a dive at him in the closing laps before he clipped the kerbs and tyres hard at the chicane with four laps remaining, his car getting high on two wheels, damaging the suspension and was lucky to avoid ending his race, Courtney holding on to third ahead of Lowndes at the finish.
Steven Johnson was next in sixth place, closely followed by Mark Winterbottom, Rick Kelly, Paul Dumbrell and Lee Holdsworth, completing the top ten finishers.
After a poor qualifying following contact, Will Davison's day looked like turning around, running in 11th place through most of the race despite a hard hit exiting the final turn in the opening laps. But an engine issue in the closing laps forced him to park the car, scoring no points.
Another driver who had a poor qualifying didn't even make it to the end of lap one, local hero Shane van Gisbergen out after getting hit in the rear early on the first lap, with several other cars involved.
Pos  Driver                Make                  Time
 1.  Jamie Whincup         Holden Commodore VE   1h30m34.7140s
 2.  Garth Tander          Holden Commodore VE   +     2.4217s
 3.  James Courtney        Ford Falcon FG        +     3.9397s
 4.  Craig Lowndes         Holden Commodore VE   +     5.6609s
 5.  Michael Caruso        Holden Commodore VE   +    10.1978s
 6.  Steven Johnson        Ford Falcon FG        +    12.4079s
 7.  Mark Winterbottom     Ford Falcon FG        +    14.8344s
 8.  Rick Kelly            Holden Commodore VE   +    15.9982s
 9.  Paul Dumbrell         Ford Falcon FG        +    16.6233s
10.  Lee Holdsworth        Holden Commodore VE   +    16.8618s
11.  Jason Richards        Holden Commodore VE   +    21.8036s
12.  Tony D'Alberto        Holden Commodore VE   +    22.8227s
13.  Jonathon Webb         Ford Falcon FG        +    23.3867s
14.  Andrew Thompson       Holden Commodore VE   +    24.8015s
15.  Jason Bargwanna       Holden Commodore VE   +    28.2740s
16.  Karl Reindler         Holden Commodore VE   +    32.2194s
17.  Alex Davison          Ford Falcon FG        +    34.7587s
18.  Greg Murphy           Holden Commodore VE   +    35.0209s
19.  Daniel Gaunt          Holden Commodore VE   +    44.0034s
20.  Todd Kelly            Holden Commodore VE   +    44.5215s
21.  Jason Bright          Holden Commodore VE   +    56.8432s
22.  Fabian Coulthard      Holden Commodore VE   +    58.9999s
23.  Tony Ricciardello     Holden Commodore VE   +      1 lap
24.  Steven Richards       Ford Falcon FG        +      4 laps

Not classified/retirements:

     Driver                Make                  Laps
     Will Davison          Holden Commodore VE    54
     Tim Slade             Ford Falcon FG         42
     Dean Fiore            Ford Falcon FG         13
     Russell Ingall        Holden Commodore VE    11
     Shane Van Gisbergen   Ford Falcon FG          0