Stewart claims Texas pole
| | |
| --- | --- |
| By Diego Mejia | Friday, April 16th 2010, 22:22 GMT |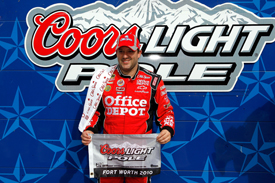 Tony Stewart claimed his first pole position in more than four years in qualifying for Sunday's NASCAR Sprint Cup Series race at Texas Motor Speedway.
The two-time Sprint Cup champion, fresh from getting his first win of the year as an owner with Ryan Newman's victory at Phoenix, broke a 155-race streak without a pole by setting the fastest lap in qualifying, with a time of 28.224 seconds at an average speed of 191.327 mph.
Stewart, at the wheel of his #14 Chevrolet, bumped practice pacesetter Greg Biffle from pole and only Penske's Sam Hornish Jr was able to threaten him after that, running around two hundredths of a second slower right after Stewart had completed his pole-winning run.
"It's like the sky is falling here," Stewart joked after winning his first ever pole position at Texas Motor Speedway. "Yeah, qualifying is not my strong shoe but [crew chief] Darien Grubb and all the team got me a really good car here for this weekend. I'm really proud of them."
Stewart's pole position lap time was a couple of hundredths of a second quicker than what Jeff Gordon managed last year in November, as Cup cars run for the first time at a mile-and-a-half oval with the new spoiler.
After starting a career best third at Phoenix last weekend, Hornish earned his first front row start in Sprint Cup competition at a track where he won three times in his IndyCar days.
Roush Fenway's Biffle ended up third fastest and quickest of the Fords, joined on the second row for Sunday by points leader Jimmie Johnson, while his future Hendrick Motorsports team-mate Kasey Kahne rounded out the top five in qualifying.
Kyle Busch was the fastest Toyota in seventh, behind Jeff Burton's Chevy and ahead of his RCR team-mate Clint Bowyer.
Joe Nemechek was the fastest of the non-guaranteed drivers in 22nd, right behind Juan Pablo Montoya, who qualified outside the top ten for the first time this year.
David Stremme, Terry Cook and Johnny Sauter, who was replacing Mike Bliss in the #36 car, failed to qualify for Sunday's race. Bliss qualified 34th for Phoenix Racing.
Pos  Driver             Car        Speed    Time     Gap
 1.  Tony Stewart       Chevrolet  191.327  28.224s
 2.  Sam Hornish Jr     Dodge      191.232  28.238s  + 0.014s
 3.  Greg Biffle        Ford       190.900  28.287s  + 0.063s
 4.  Jimmie Johnson     Chevrolet  190.880  28.290s  + 0.066s
 5.  Kasey Kahne        Ford       190.712  28.315s  + 0.091s
 6.  Jeff Burton        Chevrolet  190.255  28.383s  + 0.159s
 7.  Kyle Busch         Toyota     190.248  28.384s  + 0.160s
 8.  Clint Bowyer       Chevrolet  190.188  28.393s  + 0.169s
 9.  Dale Earnhardt Jr  Chevrolet  190.121  28.403s  + 0.179s
10.  Ryan Newman        Chevrolet  190.000  28.421s  + 0.197s
11.  Kurt Busch         Dodge      189.900  28.436s  + 0.212s
12.  Jeff Gordon        Chevrolet  189.833  28.446s  + 0.222s
13.  David Ragan        Ford       189.753  28.458s  + 0.234s
14.  Martin Truex Jr    Toyota     189.707  28.465s  + 0.241s
15.  Jamie McMurray     Chevrolet  189.454  28.503s  + 0.279s
16.  David Reutimann    Toyota     189.381  28.514s  + 0.290s
17.  AJ Allmendinger    Ford       189.029  28.567s  + 0.343s
18.  Joey Logano        Toyota     188.910  28.585s  + 0.361s
19.  Kevin Harvick      Chevrolet  188.871  28.591s  + 0.367s
20.  Carl Edwards       Ford       188.864  28.592s  + 0.368s
21.  Juan Montoya       Chevrolet  188.811  28.600s  + 0.376s
22.  Joe Nemechek       Toyota     188.778  28.605s  + 0.381s
23.  Scott Speed        Toyota     188.772  28.606s  + 0.382s
24.  Dave Blaney        Toyota     188.745  28.610s  + 0.386s
25.  Paul Menard        Ford       188.699  28.617s  + 0.393s
26.  Regan Smith        Chevrolet  188.692  28.618s  + 0.394s
27.  Max Papis          Toyota     188.640  28.626s  + 0.402s
28.  Matt Kenseth       Ford       188.633  28.627s  + 0.403s
29.  Denny Hamlin       Toyota     188.567  28.637s  + 0.413s
30.  Mark Martin        Chevrolet  188.317  28.675s  + 0.451s
31.  David Gilliland    Ford       188.094  28.709s  + 0.485s
32.  Marcos Ambrose     Toyota     188.088  28.710s  + 0.486s
33.  Michael McDowell   Toyota     187.996  28.724s  + 0.500s
34.  Mike Bliss         Chevrolet  187.944  28.732s  + 0.508s
35.  Travis Kvapil      Ford       187.859  28.745s  + 0.521s
36.  Bill Elliott       Ford       187.839  28.748s  + 0.524s
37.  Brad Keselowski    Dodge      187.826  28.750s  + 0.526s
38.  Robby Gordon       Toyota     187.676  28.773s  + 0.549s
39.  Elliott Sadler     Ford       187.169  28.851s  + 0.627s
40.  Kevin Conway       Ford       186.780  28.911s  + 0.687s
41.  Bobby Labonte      Chevrolet  186.645  28.932s  + 0.708s
42.  Brian Vickers      Toyota     185.370  29.131s  + 0.907s
43.  Reed Sorenson      Toyota     187.071  28.866s  + 0.642s
44.  David Stremme      Ford       186.554  28.946s  + 0.722s
45.  Terry Cook         Dodge      186.021  29.029s  + 0.805s
46.  Johnny Sauter      Chevrolet  181.990  29.672s  + 1.448s