Ecclestone confirms 20 races in 2011
| | |
| --- | --- |
| By Jonathan Noble | Friday, April 16th 2010, 06:00 GMT |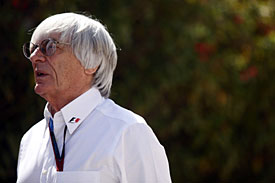 Formula 1's calendar will expand to 20 races next year with the addition of the Indian Grand Prix, after the sport's commercial boss Bernie Ecclestone revealed on Friday he has no plans to drop any of the current events.

Although there have been doubts about the future of the Chinese and Turkish Grands Prix, with neither venue attracting huge spectator numbers, Ecclestone said on Friday that all the current races would remain for 2011 when India is added.
When asked by AUTOSPORT if India would be an addition or replace an event, Ecclestone said: "We are not dropping anything. [It's] 20 races - getting ready for 25."

Ecclestone also made it clear that he expected a fresh contract to be sorted out with Chinese Grand Prix officials, despite a lack of local interest in the race having prompted questions about a new deal being done.

"We're happy with everything," he said about the Chinese GP. "No dramas... the contract is ongoing here and it will go on. It is a rolling contract."

Ecclestone also blamed the race's promoters for having failed to generate much publicity for the weekend – with the grandstands almost totally empty for Friday's free practice sessions.

"It is a shame because the whole venue is super, everything is good," he said. "It is shame. They are not promoting it properly; it is as simple as that. The people that run the place ought to do a bit more. If you were in Shanghai you wouldn't even know there is a race here."

And having arrived from a visit to the new South Korean track, Ecclestone said he had no doubts that race would go ahead.

"We will definitely be there," he said. "We will be there."