Rosberg happy with Schumacher
| | |
| --- | --- |
| By Jonathan Noble | Friday, April 16th 2010, 03:56 GMT |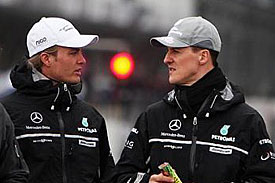 Nico Rosberg says he has been surprised how good it has been to work alongside Michael Schumacher this year - after confessing that he was wary beforehand about what life would be like as his team-mate.

Although having had the upper hand over Schumacher so far this season, Rosberg says he has experienced no negative vibe from the seven-time champion, and is loving racing against him.

"In general you would get a wrong impression of him," said Rosberg about what his research had told him pre-season about driving alongside Schumacher. "Getting into it you would have a negative impression of him and that being a team-mate to him would not be good, but it is not really the case. I have been positively surprised.

"It is still going to be very challenging against him and for sure it is not going to continue as it has now, that is clear. But generally I have been positively surprised because I heard so many bad things."

Rosberg believes Schumacher has kept his cool about his early season form because of his primary motivation for coming back to F1 - which was to get back behind the wheel of a grand prix car again.

"You sense he has come back because he wants to drive a racing car and that is what he enjoys doing," explained Rosberg. "That is the bottom line of anything and that is why he has an even mood.

"For sure, for him, winning will be right up there. But still he has come back to enjoy the driving which is nice to see, the enjoyment, which is cool."