Q & A with Robert Kubica
| | |
| --- | --- |
| By Jonathan Noble | Thursday, April 15th 2010, 08:46 GMT |
Robert Kubica has made a strong start to the 2010 season, but still feels Renault has ground to make up to the leaders.
AUTOSPORT heard his thoughts on this and all the other current Formula 1 issues in China today.
Q. It's very cold here, what impact do you think that will have on tyre warming, especially in qualifying?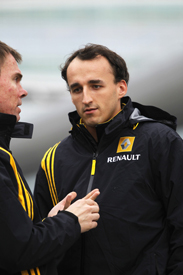 Robert Kubica: Normally temperature has a big effect. I think last year it was a bigger problem than this year. This year I think tyres have a wider working range, so there is less of a warm-up problem - at least in my car, so I struggle a bit less. But overall the tyres are suiting different conditions better.
But, yeah, in Australia we had a sudden drop in temperature and we struggled more with the grip and the overall performance of the car, so of course we hope for higher temperatures. But we cannot change the weather, so it's the same for everybody, we just hope we don't face the same problems as Australia.
Q. Could graining be a bigger problem?
RK: I don't know, not really. Maybe Turn 1 and Turn 13 will have some effect on the front left tyre, but you're trying to prevent the tyres from graining and I would be surprised to see really big problems.
Q. You said before Malaysia there was a big gap between Renault and the leaders. Do you still feel the same? You're only nine points off the championship lead?
RK: I think on pure performance there is still a big gap. If we take dry conditions with normal driving and no problems for anybody, I think the gap is still pretty big to the best cars.
Of course we'll keep working and pushing, and the points which we scored in the last two races were very good for us. But we have to stay realistic. We were very good at taking possibilities in Australia and Malaysia, with doing the right pitstops, and everything worked very well for us, so that's why we are in good shape and just nine points behind the leader.
But I think if you go into more detail of the performance, we are still lacking and have quite a big gap to the front cars.
Q. Can you match Mercedes here?
RK: It's very difficult. In Bahrain and in Malaysia we were very close together. It looks like they have better performance in qualifying. We are at least as good in the race. But I don't know if they are bringing some updates and how they are improving for this race, so it's a very difficult question. Of course we hope to improve and we hope to catch the front cars, but whether this will happen and how fast, we will see.
Q. Do you have new parts this weekend?
RK: We have some modifications on the front wing and the floor. Things that should give us a bit of performance.
Q. Is your car more competitive on the softer tyres?
RK: I don't think so. I think in Malaysia we did have some small problems during the race, so I was not able to follow Nico [Rosberg] closely, especially during the second half of the race. I had to make sure I kept enough space to help our problem, which was temperature. We had a small water leak, so actually I was very, very happy to finish the race.
I think overall Mercedes is better with a lighter car, and we are better with the heavy car - which makes sense because at the start of the race the cars are heavy, so it looks like we are closer to them. Then when the fuel load burns down it looks like they have better pace.
Q. The Renaults are making consistently good starts, is there some characteristic in the car to help you do that?
RK: I don't think we had really good starts in Australia. Vitaly [Petrov] had some very good starts but I think that is normal when you are a long way back. Starting with the top teams, it's a bit more difficult [at the start] compared to starting P18 or something. So far, so good, starts are important so we are pretty happy about this point and pretty confident.
Q. Are you encouraged by the rate of Renault's development?
RK: To be honest I cannot judge our performance and if we are getting closer, because the last two races were quite strange. In Malaysia, qualifying was wet, in Australia the race was very, very strange.
Of course it's very good to see that everybody in the team is working hard and trying to bring new parts to every race. There is still a long way, we need a very big step, but it's better to have small steps than nothing.
Overall we are very happy, but still we will need a big step or at least two or three very big steps in order to be in a position to catch the leaders. I think it will be very difficult because everybody is working very hard, and the top teams especially are able to improve their cars very well.
Q. There have already been rumours linking you to Ferrari for next year. Does this flatter or bother you?
RK: There were already rumours last year about Ferrari, and there are rumours again this year. We will see. Up to now, the rumours have only been rumours. I'll keep working, and for now I'm concentrating on every single race and trying to do the best job possible for the team which I'm racing for. It's very, very clear for me that what will happen in the future doesn't affect me now. I didn't think for any second or any minute about next year or my future.
Q. You've already said you are very happy at Renault, so what needs to happen to make you stay there beyond 2010?
RK: I think it's too early to discuss. I think we have common goals with the team and we go in a common direction. We all have the same approach to races and that's very, very important. So for now I think nobody in the team, or me as a driver, is thinking about what will happen next year. We are concentrating on this year, and that's how I think it should be.
Q. How important to you is the team atmosphere?
RK: Of course it's quite important. I think it's very important for everybody to feel as good as possible. When you have good results, maybe you don't care about the atmosphere much because you have a good car, but once your results are not as you are expecting, if you have a good atmosphere and are pushing in the same direction, you are able to get better much quicker and in a better way.
I think this is what we are trying to do with Renault. Up to now, I'm happy, everybody seems quite happy with what we're doing. There are still things to solve and I hope we will solve them as quick as we can. It is not easy, but at least we are trying and that's important.
Q. Does Renault have the facilities and resources to match the current top four?
RK: They beat them five years ago, so I don't see any reason why not. We have seen it in the past with Brawn - they were not the highest budget and not a so-called top team, but they won the championship.
Renault is also a good example. When they were winning championships I don't think they were the highest budget team or had the most resources. Of course resources can help and it makes life easier for everybody in the team. And when you have no money it's very difficult.
But the most important thing is that we try to do the most we can with what we have. If at the end of the year you are happy with what you have achieved, whether you are first or fifth or seventh, you can have personal achievements and you feel happy about what you have done.
Q. Are you clear on driver etiquette and what's allowed in terms of defending a position?
RK: In the regulations, yes? Reading the regulations, I'm clear. Watching Malaysia, I'm not so clear...
Q. Will you discuss it tomorrow?
RK: Yes, but to be honest, I don't go into the details much. I think there were too many moves during that race - not only from one driver. I don't think it was only one driver who did more than one move. It's important that you don't move when you are side by side. For example, in F3 or something like this there was no rule saying you are not able weave in a straightline. In F1 it looks like there is a rule. But I don't want to go into the details too much.
Q. Are you surprised Sauber is struggling?
RK: After testing, yes.
Q. But did you think its testing speed was realistic?
RK: Somehow I was hoping, for Renault, that they were not so quick as they looked in winter testing, as it would've meant they were miles ahead of us...
I don't know, to be honest, what happened there and why they are struggling so much. They looked very competitive in winter testing. The car was on a good level when I left BMW last year. I think everybody was expecting them to at least fight for the top eight positions, or being in the middle of the top four teams.