Indy 500 shakes up qualifying format
| | |
| --- | --- |
| By Matt Beer | Wednesday, April 14th 2010, 13:21 GMT |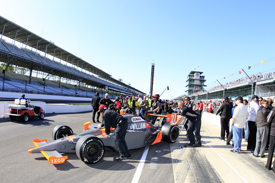 The 2010 Indianapolis 500 will feature a new nine-driver pole shoot-out on the first day of qualifying as part of a major revamp of the event's qualifying format.
Following the earlier announcement that qualifying will be compacted from a two-weekend procedure to a single weekend in 2010, the Indianapolis Motor Speedway has now revealed full details of the new system.
As before, all entrants will be allowed three shots at making the field on the opening day, which is Saturday 22 May this year. The top 24 drivers after the first five hours of qualifying will be guaranteed spots in the race, with positions 10 to 24 set during this time.
Then for the final 90 minutes of Pole Day, the top nine drivers from the initial five hours of qualifying will fight it out for pole. Their previous times will be erased and the results of this 'Fast Nine' shootout - during which all participants will get at least one four-lap run with the option of another only if time allows - will set positions one to nine on the grid.
The prize money for pole will be increased from $100,000 to $175,000, with second and third places getting $75,000 and $50,000 respectively. Points will also be awarded for all qualifying positions, unlike the normal format of only the pole position winner get a bonus point. The top nine qualifiers will score under a 15-13-12-11-10-9-8-7-6 distribution. All qualifiers between 10th and 24th get four points, with three points for each starter from 25th to 33rd.
The final nine positions on the grid will be set during Bump Day on Sunday 23 May. Practice for the event starts the previous weekend.
"This new format for Indianapolis 500 qualifying will deliver even more action and intensity for fans," said Indianapolis Motor Speedway boss Jeff Belskus.
"Drivers will go all out during the first session on Pole Day to get a chance to make a run for the pole. Then they'll need to dig even deeper to find the speed for the pole in the last 90 minutes.
"Plus there still will be plenty of spots up for grabs on Bump Day, with all of the dramatic, last-minute bumping that generations of fans have loved about Indy.
"This is going to be a fantastic weekend of qualifying. I can't wait to see it unfold."