New Audi scores debut Paul Ricard win
| | |
| --- | --- |
| By Gary Watkins | Sunday, April 11th 2010, 17:13 GMT |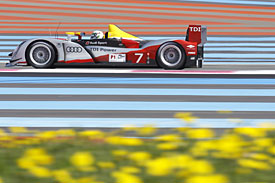 The new Audi R15 plus claimed a dominant victory on its debut in the Paul Ricard 8 Hours.
Audi drivers Allan McNish and Rinaldo Capello led all but two and half laps of the opening round of the Le Mans Series on the way to a five-lap victory over the Aston Martin Racing Lola driven by Stefan Mucke, Adrian Fernandez and Harold Primat.
The ORECA Peugeot 908, the only car capable of challenging the Audi on pace, finished fourth after losing nine laps early in the race with a problem with the rear airjack system.
"It is nice to chock up another victory for the Audi marque and a first victory for a new car is always something special," said McNish.
Ralf Juttner, technical director of Audi Sport Team Joest, added that vital lessons had been learned for the Le Mans 24 Hours in June, which was the primary reason for Audi contesting this race with a solo R15 plus.
"This was the idea of coming here, to see how the changes between the R15 and the R15 plus have worked," he said. "We are taking a long list of things to work on away with us, but the fundamentals seem good."
The Strakka Racing HPD/Acura staged a remarkable comeback to claim LMP2 honours after the car driven by Danny Watts, Jonny Kane and Nick Leventis lost four laps to bodywork repairs. Watts, who had qualified the car on pole position by 2.2 seconds, led the fightback and retook the lead in the penultimate hour.
The Briton fell behind the best of the OAK Racing Pescarolos when he stopped with just over an hour to go, but moved back to the front when Richard Hein brought the Judd-powered OAK Pescarolo he shared with Guillaume Moreau into the pits with half an hour to go.
"Spending 12 minutes in the pits early on wasn't the plan, but the team showed fantastic spirit to fight back," said Watts.
The GT2 class was won by the Felbermayr Proton Porsche driven by Richard Lietz and Marc Lieb. The two Porsche factory drivers battled with the Imsa Performance Porsche shared by Patrick Pilet and Raymond Narac early in the race and then fought off a challenge from the AF Corse Ferrari driven by Toni Vilander, Giancarolo Fisichella and Jean Alesi later on. The latter ultimately dropped back to third behind the second Felbermayr entry.

Pos Driver                          Class/Team/Car             Laps
 1. Capello/McNish                  P1 Audi                     266
 2. Fernandez/Primat/Mucke          P1 Aston Martin             261
 3. Belicchi/Boullion/Smith         P1 Rebellion Lola           261
 4. Panis/Lapierre/Sarrazin         P1 ORECA Peugeot            258
 5. Ayari/Andre/Duval               P1 ORECA                    258
 6. Ragues/Mailleux/Ickx            P1 Signature Aston          256
 7. Leventis/Watts/Kane             P2 Strakka HPD              250
 8. Hein/Moreau                     P2 Oak Pescarolo            250
 9. Erdos/Newton/Wallace            P2 RML Lola                 249
10. Lahaye/Nicolet                  P2 Oak Pescarolo            249
11. Prost/Jani                      P1 Rebellion Lola           248
12. Ojjeh/Greaves/Ebbesvik          P2 Bruich. Ginetta          248
13. Geri/Piccini/Piccini            P2 Racing Box Lola          246
14. Mansell/Mansell/Mansell         P1 Beechdean Ginetta        243
15. Toulemonde/Zollinger/Zampatti   LC Formula Le Mans          237
16. Beche/Pillon/Capillaire         LC Formula Le Mans          237
17. Barlesi/Cicognani/Chalandon     LC Formula Le Mans          235
18. Lieb/Lietz                     GT2 Felbermayr Porsche       233
19. Zacchia/Moro/Kaufmann           LC Formula Le Mans          231
20. Ragginger/Ried/Long            GT2 Felbermayr Porsche       231
21. Fisichella/Vilander/Alesi      GT2 AF Corse Ferrari         231
22. Ehret/Quaife/Kaffer            GT2 CRS Ferrari              231
23. Companc/Russo                  GT2 AF Corse Ferrari         231
24. Gardel/Goueslard/Canal         GT1 Larbre Saleen            229
25. Muller/Werner                  GT2 BMW                      225
26. Schell/Metz/da Rocha            P2 Pegasus Courage          219
27. Narac/Pilet                    GT2 IMSA Porsche             219
28. Dumbreck/Coronel/Bleekemolen   GT2 Spyker                   215
29. Pourtales/Noda/Kennard          P2 KSM Lola                 188

Not classified

39. Farnbacher/Simonsen            GT2 Farnbacher Ferrari       204
21. Stirling/Hines/Piscopo          LC Formula Le Mans          203
41. Kutemann/Basso/Hartshorne       LC Formula Le Mans          203
12. Amaral/Pla/Hughes               P2 Quifel Ginetta           200
22. Kraihamer/de Crem/Delhez        LC Formula Le Mans          195
17. Salini/Salini/Gommendy          P2 WR-Zytek                 168
33. Bruni/Melo                     GT2 AF Cornse Ferrari        152
30. Kirkaldy/Mullen                GT2 CRS Ferrari              123
16. Cioci/Perazzini/Pirri           P2 Racing Box Lola          116
19. Frey/Meichtry/Dueck             P2 Race Perf. Radical        66
34. Bell/Turner                    GT2 JMW Aston Martin          65
35. Holzer/Westbrook               GT2 Prospeed Porsche          54