ORECA Peugeot beats Audi to pole
| | |
| --- | --- |
| By Gary Watkins | Saturday, April 10th 2010, 13:08 GMT |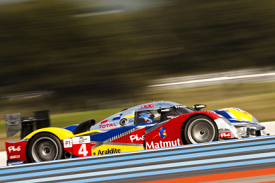 The ORECA Peugeot team beat the factory Audi to pole position for tomorrow's Paul Ricard 8 Hours.
Nicolas Lapierre set a best time of 1m41.195s in the factory-assisted Peugeot 908 HDi, which was just under half a second quicker than Dindo Capello aboard the new Audi R15 plus.
Third fastest was Stefan Mucke in the Aston Martin Racing coupe, on a 1m42.354s.
Lapierre said: "It was a bit tricky because I had a bit of traffic on my first lap, but the second lap was good enough. It's a good start, but the main job is tomorrow."
Briton Danny Watts easily claimed LMP2 pole on the European debut of the Acura/HPD. The Strakka driver's lap of 1m44.989s was more than two seconds faster than the Olivier Pla in the ASM Zytek.
"We know how good this car is from what it has achieved in America, but to be honest it's still a little bit too good for us at the moment," said Watts. "We still need to get a bit more comfortable in the car."
AF Corse Ferrari driver Gianmaria Bruni came out on top in the ultra-competitive GT2 class. The Italian ended up nearly four tenths of a second ahead of Richard Lietz in the Felbermayr Porsche.
Gabriele Gardel set the time in the only GT1 car on the grid, the Larbre Competition Saleen S7R. Eduardo Piscopo ended up fastest of the seven Formula Le Mans one-make ORECA prototypes.
Pos Driver                          Class/Team/Car               Time
 1. Panis/Lapierre/Sarrazin         P1 ORECA Peugeot        1m41.195s
 2. Capello/McNish                  P1 Audi                 1m41.632s
 3. Fernandez/Primat/Mucke          P1 Aston Martin         1m42.354s
 4. Ayari/Andre/Duval               P1 ORECA                1m42.685s
 5. Belicchi/Boullion/Smith         P1 Rebellion Lola       1m43.435s
 6. Prost/Jani                      P1 Rebellion Lola       1m44.032s
 7. Mansell/Mansell/Mansell         P1 Beechdean Ginetta    1m44.475s
 8. Ragues/Mailleux/Ickx            P1 Signature Aston      1m44.914s
 9. Leventis/Watts/Kane             P2 Strakka HPD          1m44.989s
10. Amaral/Pla/Hughes               P2 ASM Ginetta          1m47.112s
11. Lahaye/Nicolet                  P2 Oak Pescarolo        1m47.474s
12. Erdos/Newton/Wallace            P2 RML Lola             1m47.491s
13. Ojjeh/Greaves/Ebbesvik          P2 Bruich. Ginetta      1m48.439s
14. Geri/Piccini/Piccini            P2 Racing Box Lola      1m48.635s
15. Salini/Salini/Gommendy          P2 WR-Zytek             1m49.567s
16. Cioci/Perazzini/Pirri           P2 Racing Box Lola      1m49.931s
17. Pourtales/Noda/Kennard          P2 KSM Lola             1m50.913s
18. Frey/Meichtry/Dueck             P2 Race Perf. Radical   1m52.612s
19. Stirling/Hines/Piscopo          LC Formula Le Mans      1m52.936s
20. Beche/Pillon/Capillaire         LC Formula Le Mans      1m53.090s
21. Schell/Metz/da Rocha            P2 Pegasus Courage      1m53.418s
22. Toulemonde/Zollinger/Zampatti   LC Formula Le Mans      1m53.447s
23. Kraihamer/de Crem/Delhez        LC Formula Le Mans      1m53.850s
24. Barlesi/Cicognani/Chalandon     LC Formula Le Mans      1m54.187s
25. Zacchia/Moro/Kaufmann           LC Formula Le Mans      1m54.305s
26. Gardel/Goueslard/Canal         GT1 Larbre Saleen        1m57.085s
27. Bruni/Melo                     GT2 AF Cornse Ferrari    1m57.850s
28. Lieb/Lietz                     GT2 Felbermayr Porsche   1m58.216s
29. Kirkaldy/Mullen                GT2 CRS Ferrari          1m58.475s
30. Fisichella/Vilander/Alesi      GT2 AF Corse Ferrari     1m58.545s
31. Bell/Turner                    GT2 JMW Aston Martin     1m58.549s
32. Companc/Russo                  GT2 AF Corse Ferrari     1m58.707s
33. Ehret/Quaife/Kaffer            GT2 CRS Ferrari          1m59.021s
34. Narac/Pilet                    GT2 IMSA Porsche         1m59.035s
35. Dumbreck/Coronel/Bleekemolen   GT2 Spyker               1m59.177s
36. Ragginger/Ried/Long            GT2 Felbermayr Porsche   1m59.447s
37. Farnbacher/Simonsen            GT2 Farnbacher Ferrari   1m59.480s
38. Holzer/Westbrook               GT2 Prospeed Porsche     1m59.539s
39. Muller/Werner                  GT2 BMW                  1m59.593s
40. Kutemann/Basso/Hartshorne       LC Formula Le Mans      2m00.775s
41. Hein/Moreau                     P2 Oak Pescarolo        no time