Allmendinger takes maiden Cup pole
| | |
| --- | --- |
| By Diego Mejia | Saturday, April 10th 2010, 09:23 GMT |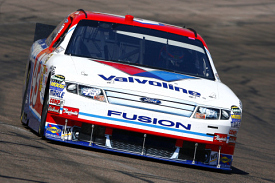 AJ Allmendinger claimed his first NASCAR pole position in qualifying for Saturday night's Sprint Cup race at Phoenix International Raceway.
In a session that was dominated by former open-wheel racers, the Champ Car race-winner made the most of the improving track conditions to set a laptime of 26.731s, at an average speed of 134.675mph, behind the wheel of his #43 Richard Petty Motorsport Ford.
"I know it might be minor, but it's a small victory for us," said the 28-year-old. "We've really struggled in qualifying so to get our first pole gets that monkey off our back. More importantly we get to see the green flag drop, lead it to the green and go to the front."
Allmendinger bumped fellow Californian Scott Speed from pole position by less than a tenth of a second after the Red Bull Toyota driver became the first to break into the 26-second bracket. Three-time IndyCar champion Sam Hornish Jr was third fastest in his best qualifying showing of the season, also the Penske driver's best ever at Phoenix.
Marcos Ambrose was fourth fastest for JTG Daugherty, followed by Hendrick Motorsports' Dale Earnhardt Jr, while Juan Pablo Montoya followed in seventh after holding on to provisional pole before Speed became the first to bump him as the track cooled down.
Jeff Gordon, who had been fastest in the final practice was 10th in the end, while his Hendrick Motorsports team-mate Jimmie Johnson, a four-time winner at Phoenix, struggled with balance while power-sliding his car on corner exit to finish 16th on the grid.
Denny Hamlin showed good signs of recovery from his knee surgery nine days ago, setting the pace in the openning practice of the day, although he alternated behind the wheel of his Joe Gibbs Racing Toyota with Casey Mears, who remains on standby as his relief driver for tomorrow's race. Hamlin's car will start from 26th on the grid.
David Stremme, Aric Almirola, Mike Bliss and Brandon Ash failed to qualify.
Pos Driver                 Car             Time        Gap
 1. AJ Allmendinger        Ford            26.731s
 2. Scott Speed            Toyota          26.791s  +0.060
 3. Sam Hornish Jr         Dodge           26.826s  +0.095
 4. Marcos Ambrose         Toyota          26.903s  +0.172
 5. Dale Earnhardt Jr      Chevrolet       26.938s  +0.207
 6. Joey Logano            Toyota          26.981s  +0.250
 7. Juan Pablo Montoya     Chevrolet       26.999s  +0.268
 8. Martin Truex Jr        Toyota          27.008s  +0.277
 9. Carl Edwards           Ford            27.016s  +0.285
10. Jeff Gordon            Chevrolet       27.017s  +0.286
11. Tony Stewart           Chevrolet       27.024s  +0.293
12. Michael McDowell       Toyota          27.040s  +0.309
13. Jamie McMurray         Chevrolet       27.042s  +0.311
14. Ryan Newman            Chevrolet       27.065s  +0.334
15. Jeff Burton            Chevrolet       27.073s  +0.342
16. Jimmie Johnson         Chevrolet       27.087s  +0.356
17. Kyle Busch             Toyota          27.090s  +0.359
18. Joe Nemechek           Toyota          27.094s  +0.363
19. Kurt Busch             Dodge           27.105s  +0.374
20. Kasey Kahne            Ford            27.110s  +0.379
21. Brian Vickers          Toyota          27.111s  +0.380
22. Brad Keselowski        Dodge           27.119s  +0.388
23. Mark Martin            Chevrolet       27.122s  +0.391
24. Kevin Harvick          Chevrolet       27.125s  +0.394
25. Clint Bowyer           Chevrolet       27.148s  +0.417
26. Denny Hamlin           Toyota          27.155s  +0.424
27. Matt Kenseth           Ford            27.169s  +0.438
28. Regan Smith            Chevrolet       27.182s  +0.451
29. David Ragan            Ford            27.206s  +0.475
30. Greg Biffle            Ford            27.211s  +0.480
31. Dave Blaney            Toyota          27.227s  +0.496
32. Paul Menard            Ford            27.239s  +0.508
33. Robby Gordon           Toyota          27.261s  +0.530
34. Max Papis              Toyota          27.276s  +0.545
35. Scott Riggs            Chevrolet       27.300s  +0.569
36. David Gilliland        Ford            27.308s  +0.577
37. Johnny Sauter          Chevrolet       27.357s  +0.626
38. Terry Cook             Dodge           27.362s  +0.631
39. David Stremme          Ford            27.392s  +0.661
40. Elliott Sadler         Ford            27.410s  +0.679
41. Aric Almirola          Chevrolet       27.470s  +0.739
42. David Reutimann        Toyota          27.540s  +0.809
43. Mike Bliss             Chevrolet       27.549s  +0.818
44. Bobby Labonte          Chevrolet       27.669s  +0.938
45. Travis Kvapil          Ford            27.712s  +0.981
46. Brandon Ash            Dodge           27.948s  +1.217
47. Kevin Conway           Ford            28.226s  +1.495