Vietoris fastest in final GP2 test
| | |
| --- | --- |
| By Steven English | Friday, April 9th 2010, 15:43 GMT |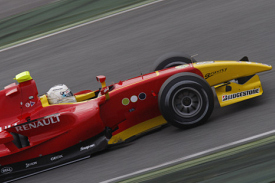 Christian Vietoris set the quickest time of the final day of pre-season GP2 testing at Barcelona today.
The 21-year-old German, who finished runner-up to Jules Bianchi in last season's F3 Euro Series, set his best time during the morning running and it proved unbeatable for the rest of the day.
Fellwo series newcomer Oliver Turvey was second fastest for iSport with Vietoris's Racing Engineering team-mate Dani Clos third.
Rookies filled six of the top 10 places, with Charles Pic fourth for Arden and Bianchi fifth for ART despite completing just nine laps in the quicker morning session.
Old hands Jerome d'Ambrosio, who topped yesterday's times, and Pastor Maldonado were six and seventh. Josef Kral set exactly the same time as Maldonado in eighth, while his fellow rookie Super Nova team-mate Marcus Ericsson was just two thousandths of a second further back in ninth.
Sergio Perez completed the top 10 for Barwa Addax, just ahead of Fabio Leimer who was 11th despite setting a time just 0.020s slower than sixth-placed Maldonado. Asia Series champion Davide Valsecchi could only manage the 12th fastest time.
The GP2 season begins at Barcelona on May 7-9.
Morning times:

Pos Driver                  Team                    Time       Laps
 1. Christian Vietoris      Racing Engineering      1m27.284s    21
 2. Oliver Turvey           iSport                  1m27.555s    29
 3. Dani Clos               Racing Engineering      1m27.614s    14
 4. Charles Pic             Arden                   1m27.786s    25
 5. Jules Bianchi           ART                     1m27.916s     9
 6. Jerome d'Ambrosio       DAMS                    1m27.937s    18
 7. Pastor Maldonado        Rapax                   1m27.985s    14
 8. Josef Kral              Super Nova              1m27.985s    36
 9. Marcus Ericsson         Super Nova              1m27.987s    22
10. Sergio Perez            Barwa Addax             1m27.998s    27
11. Fabio Leimer            Ocean                   1m28.005s    17
12. Davide Valsecchi        iSport                  1m28.086s    26
13. Giedo van der Garde     Barwa Addax             1m28.119s    17
14. Alberto Valerio         Coloni                  1m28.141s    25
15. Michael Herck           DPR                     1m28.560s    18
16. Luiz Razia              Rapax                   1m28.689s    19
17. Vladimir Arabadzhiev    Coloni                  1m28.767s    25
18. Sam Bird                ART                     1m28.783s    12
19. Ho-Pin Tung             DAMS                    1m28.686s    24
20  Rodolfo Gonzalez        Arden                   1m29.369s    24
21. Max Chilton             Ocean                   1m29.486s    27
22. Adrian Zaugg            Trident                 1m29.791s     8
23. Johnny Cecotto          Trident                 1m29.868s    20

Afternoon times: 

Pos Driver                  Team                    Time       Laps
 1. Davide Valsecchi        iSport                  1m28.682s    32
 2. Pastor Maldonado        Rapax                   1m28.715s    18
 3. Fabio Leimer            Ocean                   1m28.716s     9
 4. Sam Bird                ART                     1m28.856s    11
 5. Oliver Turvey           iSport                  1m28.957s    25
 6. Jules Bianchi           ART                     1m29.082s    16
 7. Giedo van der Garde     Barwa Addax             1m29.088s    11
 8. Max Chilton             Ocean                   1m29.212s    29
 9. Luiz Razia              Rapax                   1m29.289s    29
10. Jerome d'Ambrosio       DAMS                    1m29.502s    31
11. Charles Pic             Arden                   1m29.535s    35
12. Marcus Ericsson         Super Nova              1m29.620s    47
13. Michael Herck           DPR                     1m29.808s    32
14. Johnny Cecotto          Trident                 1m29.870s    27
15. Adrian Zaugg            Trident                 1m30.088s    24
16. Josef Kral              Super Nova              1m30.277s    38
17. Ho-Pin Tung             DAMS                    1m30.409s    34
18. Rodolfo Gonzalez        Arden                   1m30.531s    36
19. Vladimir Arabadzhiev    Coloni                  1m30.743s    19
20  Christian Vietoris      Racing Engineering      1m30.834s    25
21. Giacomo Ricci           DPR                     1m30.864s     5
22. Dani Clos               Racing Engineering      1m31.000s     8
23. Alberto Valerio         Coloni                  1m31.660s     6
24. Sergio Perez            Barwa Addax             1m31.928s    24