| | |
| --- | --- |
| Edwards says Tech 3 could win in 2010 | |
| | |
| --- | --- |
| By Toby Moody and Matt Beer | Wednesday, April 7th 2010, 09:51 GMT |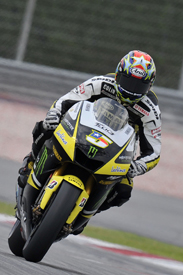 Colin Edwards reckons his Tech 3 team has a better chance than ever to score MotoGP race wins this year given the quality of equipment it has received from Yamaha.
The American and his new team-mate Ben Spies have been among the frontrunners in winter testing, and Edwards said their bikes were now much closer in spec to the factory Yamahas of Valentino Rossi and Jorge Lorenzo, partly due to the new engine life restrictions.
"Basically, this year probably would be the closest they've ever been," siad Edwards. "I'm not saying the bikes are exactly the same. But I think they're a lot closer than they've ever been. That's about all we can really ask for, being a sister team.
"When you look at the speed charts, we're right there. Everybody's running good. I think all 18 bikes are running within 4km/h or something like that. I think it's a good thing.
"The six engines all year, I think it's evened out the amount of power you can actually put out and keep the thing together. So I think everybody's just scrunched up a little bit more."
Edwards accepted that it would still be a very tall order to beat the leading factory bikes in a straight fight.
"You've got, I would say the top four guys, but [Dani] Pedrosa hasn't done a damn thing in the last couple of tests. You've got the top three guys," he said.
"It's going to be difficult; I ain't going to lie to you. Anybody that's going to bet against Valentino's got their head screwed on wrong.
"But it's definitely a possibility. Like I said, this is the closest our bikes have ever been to factory spec, so if there was ever a year it was going to flat-out happen, this is definitely one of those years."
He added that he would still be pleased even if Spies beat him to the honour of taking Tech 3's first MotoGP race win.
"I would love to say it's going to be me [winning]," said Edwards. "But if Ben does it, I'm not going to be disappointed."