Fry warns against writing Mercedes off
| | |
| --- | --- |
| By Jonathan Noble and Pablo Elizalde | Tuesday, April 6th 2010, 13:43 GMT |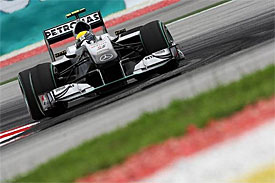 Mercedes GP CEO Nick Fry has warned not to underestimate the German squad despite a slower-than-expected start to the 2010 season.
The world champion squad has been unable to match the pace of leading teams and has so far scored only one podium thanks to Nico Rosberg's third place in the Malaysian Grand Prix.
Mercedes remains confident, however, that it will catch up with its rivals as the season progresses, and Fry says it would be foolish to write the team off already.
"I think we've got an extremely strong team, and anyone who underestimates us is fairly foolish," said Fry.
"We've got excellent people. I would say we still have the best technical leader in Ross, we have the best manufacturer and engine provider in F1, and we have two phenomenal drivers.
"All of that means that we are going to be strong, and we have the tools in terms of the money to do a very good job. I am very optimistic. We will be strong this year. Whether we can win it, who knows, but I think we will be there or thereabout."
Fry reckons seven-time champion Michael Schumacher will also be raising his game as he gets back into the groove following his three-year absence from the sport.
But the Mercedes CEO insists he has been very impressed by the German's performance already.
"Michael is, for me, quite remarkable," added Fry. "Even this weekend, the level of feedback that he gives is something that I have never seen before - and that is just not in the debriefs.
"When you have the headphones on you hear amazing things – and in qualifying he was driving around almost giving a commentary. The FIA, who also listens, was also very impressed that a driver can do that.
"Every race he is learning a little bit more and it is all coming together slowly but surely, which is probably what you would expect.
"He has taken the disappointment of what happened in Malaysia very well and he is old enough to realise that sometimes these things happen. He has taken away the positives again and I would not underestimate him."
Fry also praised Schumacher's team-mate Nico Rosberg, who he believes is driving as strongly as expected.
"My personal verdict on Nico is that he is doing exactly as I expected," he said. "He was the first into the frame, ahead of Michael [Schumacher] and Nick [Heidfeld] because Ross and I thought he was a brilliant driver. That was before Mercedes came on the scene, and he is just confirming what we thought.
"I know others in the paddock were not so convinced, but I think even they must be convinced he is the real deal now. It was a very solid performance all weekend in Malaysia and all year so far. He is very assured, very confident of himself and he has done some great qualifying as well – which augers very well for the future."