Lotus upbeat despite Sepang showing
| | |
| --- | --- |
| By Jonathan Noble | Monday, April 5th 2010, 11:28 GMT |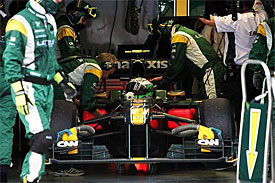 Lotus will pick itself up and simply get on with doing a better job in the future after a disappointing race performance in the Malaysian Grand Prix, reckons technical chief Mike Gascoyne.
The team was on a high after Heikki Kovalainen made it through to Q2 on home turf in Sepang, but race day collisions and a return of hydraulic problems scuppered its chances of a good result.
Gascoyne admitted that the Sunday showing had not been what Lotus was after, but he said the team would not allow itself to get disheartened at the setback.
"I think it is easy to beat yourself up with the end result," he told AUTOSPORT. "It has been a strong weekend and that is racing, isn't it?
"Jarno [Trulli] had the same problem he had in Melbourne with the hydraulics, and to be honest we ran two solutions on Friday and we decided to run the one we had the most miles on and that was probably a mistake, but hindsight is great! It is not as though we are not on top of it.
"With Heikki he made the move but it didn't quite work, he wanted to get past quickly because he felt he was so much quicker. We then had what we thought was a hydraulic system failure but it was actually a sensor failure, and we stopped him when perhaps we didn't need to. When we got him back out his pace was very good, so it is a bit disappointing because he could have had a good race.
"With Jarno he had a handling issue, he had a load of bodywork missing and was very loose at the rear, then he lost power steering and everything. That is life, we move on.
"We are still in 10th place in the Constructors' Championship and still finishing races, but it is disappointing because we feel we made a step forward here - but in the race we did not show it."
Gascoyne believes the team is making good progress and, with a car update pencilled in for the Spanish Grand Prix, he is still optimistic about the future.
"We've got time," he said. "To come to a home race as a back-to-back, third race in, was always going to be a bit of a challenge.
"We very nearly got away with it, got within a day of getting away with it, but that is life. We are looking forward, For Barcelona, and every race, there will be new bits and we are not looking backwards, we are moving forwards.
"There will be some small updates for China, a tenth or two. But the big stuff is for Barcelona - and it is a struggle to get everything on in time. We think it will be between one and two seconds quicker in Spain. It's a pretty good step - certainly more than one second just in aero."