Q & A with Stefano Domenicali
| | |
| --- | --- |
| By Jonathan Noble | Monday, April 5th 2010, 08:06 GMT |
After a perfect start to the season, Ferrari endured a disappointing Malaysian Grand Prix, with championship leader Fernando Alonso retiring from the race with engine problems.
Now the team has vowed to make sure it raises its game for China in two weeks' time.
AUTOSPORT heard from Ferrari boss Stefano Domenicali after the Sepang event.
Q. What happened with Fernando Alonso's gearbox, and then you had an engine failure, while Sauber had two. Is that worrying?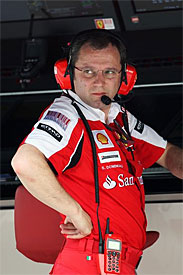 Stefano Domenicali: First of all, a worry? For sure when we have a problem with reliability it is a worry and we have to make sure we can solve it as soon as possible. We don't know what is exactly the nature of Fernando's engine problem at the moment, and we don't know what is the situation on the Sauber's engines. But what I can say now, as far as the information I have, is that these problems are different. This is in a way something that will add another reason to make sure we are on top of the reliability problems on the engine side. More than that at the moment is difficult to say.
Q. After three different circuits, how far do you think you are from the Red Bull Racing cars?
SD: I think it is difficult to say for sure. Who has the fastest car after three grands prix? If I had to look from the number point of view, we are leading the championship so we should be fastest. But we know that it is a very optimistic approach and this is not the way that we think.
We think that looking at the results of the first three grands prix, Red Bull did three pole positions and they had reliability issues on other occasions. So for sure the Red Bull seems to be the most competitive car. But I don't want to forget that also McLaren seems very good, and for sure that is the ranking I see if I had to freeze the situation today.
But we are there. We are competitive, we are strong and we need to make sure that we are on top of the problems. Unfortunately this weekend was the worst weekend in terms of a global result - mainly for two main factors. Reliability – which was unfortunately not good enough. But we cannot forget also that the bad result of this weekend was related to qualifying – because when you start from 19th and 21st, to be there is a miracle.
For sure what happened on Saturday was not acceptable – and we discussed it in the team. We don't have to take any risks, even if the other big teams did the same. It is a lesson learned for the group of people. But we need to keep working very, very strongly on the development of the car, because I am expecting the others to do a new step.
We have a competitive package but it is never enough, and we need to make sure that when we bring the new parts onto the track, they will be reliable. The data should be confirmed 100 percent, because with no testing you need to avoid having analysis of simulation showing that you have good numbers but then what is on the track being different. That is the approach that we need to keep for the next races.
Q. What is your timetable for introducing either an F-Duct like McLaren or a better suspension system for qualifying?
SD: Suspension – I don't know exactly. On the other system that is on the McLaren, for sure we are working flat out at home, because we saw the benefit that seems to be very, very big on the main straight in certain conditions – with the stalling of the rear wing. We will bring it as soon as everything will be reliable, and we will be 100 per cent sure that the system works.
Q. You said what happened in qualifying was not acceptable. Are you going to change procedures?
SD: No. We will not only look at the radar, we will also look outside!