Alonso cool on Red Bull's speed
| | |
| --- | --- |
| By Jonathan Noble and Pablo Elizalde | Sunday, April 4th 2010, 13:32 GMT |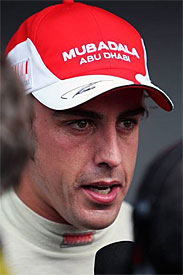 Fernando Alonso says he is not worried about Red Bull's performance despite a dominant one-two in the Malaysian Grand Prix.
Sebastian Vettel led team-mate Mark Webber home to secure his first win of the season at Sepang. The German led the previous two races only to be denied victory because of problems with his car.
Red Bull has also secured three pole positions from as many races so far.
But Alonso denies Vettel would have won the first three races had he not suffered technical problems, and the Ferrari driver is confident his team will improve as the season progresses.
"They have three pole positions, but the three wins I'm not sure [about], because we were very quick in Bahrain and we were maybe quicker than them in Australia," Alonso told reporters after the Malaysian Grand Prix.
"Here it was a strange race, too easy for them because we made a mistake in qualifying. We are not too worried at the moment.
"It's a very long championship and we are capable of improving the car a lot. We know in which areas we need to improve the car, so I'm more or less confident that we can have the best car in the next few races."
He added: "As always you need the consistency to be champion, but also you need to be fast. We are only in the third race so it's normal that the leader changes in the first races. You need a few races to settle down the championship.
"As usual, you need to finish all the races if possible and to take points, but also especially with the news points system you need to win races as well, because it's a good reward of 25 points.
"At the moment it's open with many drivers around 30 points. But as I said, when the championship goes to the end I'm sure only two or three drivers will fight for it."
The Spaniard lost the championship lead following his retirement on Sunday, afer a problematic race in which he was hindered by mechanical issues even before the start.
"It was difficult," Alonso added. "Already from the start we had a problem with the gearbox so it was very difficult to drive the car. For me it was the most difficult race of my life and probably the best race of my life until the problem."
Alonso retired with an engine problem, on a weekend where the Sauber team also hit engine trouble with its Ferrari units.
But the two-time champion, whose team replaced his engine at the season-opening race in Bahrain, says he has no worries about reliability.
"Not a concern, for sure. We had some problems. It's true that the engines are the same as in winter testing without problems. Also we have a lot of experience from Toro Rosso and Sauber as well, so unfortunately it seems that Sauber had a problem as well.
"For sure we will investigate it but overall I think the engines are more or less the same as last year so I think our engine guys have a lot of experience with this engine without any problems.
"I'm sure the problems we are having now are very specific thing that we will study after this race."