Q & A with Heikki Kovalainen
| | |
| --- | --- |
| By Jonathan Noble | Sunday, April 4th 2010, 05:35 GMT |
On its owners' home ground, Lotus achieved a significant breakthrough this weekend when Heikki Kovalainen made it through to Q2 for the first time in the new team's history.
AUTOSPORT heard from the jubilant Finn afterwards.
Q. There has been a lot of attention on the team this weekend. What does getting through to Q2 mean for this team?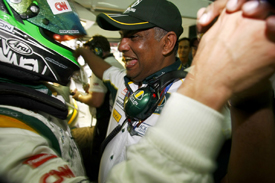 Heikki Kovalainen: Obviously everybody is very happy to take the advantage of the tricky conditions. It is good timing, and this is the best place to do it. Obviously we would not have been there if it was a straightforward dry session - but this has been another step forward this weekend.
In terms of reliability we haven't had any hydraulics problems up to now, touch wood, and the updates seem to be working really well on both cars. I am happy with weekend in terms of performance and we have managed to be ahead of the other new teams in the sessions. In qualifying we timed the runs correctly and when there was a bit of a dry line forming we managed to get the runs in. So I am pretty happy. Let's hope the race is more chaotic!
Q. When did you know McLaren and Ferrari had left it too late?
HK: Just when I stopped after my run. I said it was starting to get too wet as I was aquaplaning, and I thought that was it – we cannot improve now because it was getting too risky. So with the intermediate tyres it was getting too difficult, so the plan was to come in and change to the extreme tyres. But we decided that we could not improve the time as the rain was too heavy, so then I was watching the screens and watching the others. Felipe Massa and Lewis Hamilton got close on the last run, but at least this time we were on the right side.
Q. How are things coming together here? Six months ago the team didn't really exist, and now it is through to a Q2?
HK: I have been very impressed, and it has convinced me more that this is a very good choice for me. I've enjoyed working here and we have made significant steps forward. As a team, if you walk up and down the pitlane you would not recognise that we are a five or six month old team compared to the other professional outfits. Everything we do, preparing the cars, is running really, really well.
There is no difference to any other team although obviously in performance terms we are a bit behind. But we are exactly where we expected to be, and now we need to sort out the reliability to make sure the car is bulletproof, and then from Barcelona onwards we can move forwards.
Q. The team needs to be reliable for when Barcelona comes, so it can make the most of the updates. Is Lotus ready for that?
HK: Yes. I think so. I think qualifying was a good example. It didn't look like we were a rookie team; it looked like we were on top of the strategy and on top of the timing. We had communication all the time. They were asking me about the conditions and I was telling them, we need to stay out now, or now it is getting too difficult. It is working well – all the planning, how they plan to run the sessions and the cars, everything is done really, really well. I am impressed.
We also enjoy it when there is a little moment to enjoy. Everyone is really, really happy when that happens and it is good. We have a good drive in the team at the moment. We also earned a lot of respect from the other teams. We are a proper, professional race team, and I think other teams are respecting them. Now we need to put on more performance.
Q. The race here may well turn into another weather lottery. What is possible for you guys?
HK: I think anything is possible. If it becomes a session like qualifying it will be a matter of being out at the right time, and doing the pitstops at the right moment and putting the right tyres on. If we nail them, and if other people do mistakes like they did in qualifying, then it is possible to be in the points. On the other hand, it is also quite easy to totally screw it up and be at the other end.
I think we are going to go aggressive, we are going to take some chances and that is our chance to get a good result. Certainly I am going to go fighting, take risks and push every lap. I think we can do a good finish in the race. Hopefully we can get both cars to the finish and do that ahead of the new teams – that is still our main target. Anything other than that is a bonus – but it would be good to do even better than Melbourne.
Q. And having Mike Gascoyne on the pit wall in races like that must be good, because he has been known to make some canny decisions in the past?
HK: Yes, absolutely. Even in qualifying he was really on the money. He has been in these situations before and he has a good eye to how things are going to plan out. He is controlling the situation well and I think it is a massive advantage for us.
He has done a fantastic job in setting up the team and getting the right people in the team. They are working together, everyone is really motivated and we are working as a team really well. People spot things and we react to them really quickly – so Mike is doing a very good job.