Red Bull pressures no worry for Horner
| | |
| --- | --- |
| By Jonathan Noble | Sunday, April 4th 2010, 04:28 GMT |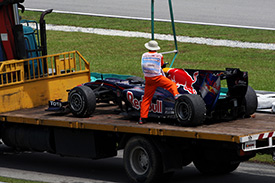 Red Bull Racing boss Christian Horner says he would rather be facing the pressure that comes from trying to end his team's reliability nightmare, than having to get more speed out of a bulletproof but slow car.
With Sebastian Vettel and Mark Webber still chasing their first podium finish of the season after mechanical problems and incidents cost them in the first two races of the year, Horner says he remains calm about the hurdles his team needs to overcome to kick start its championship assault.
And with Red Bull desperate to get both cars to the finish of the Malaysian Grand Prix, which Webber starts from pole, Horner has said he has faith in his staff to get on top of its early season dramas.
"We know we have a very good group of people who are working extremely hard in Milton Keynes," said Horner.
"The reality is that we won the last three races of last year. We had good chassis reliability, and we should have book ended that with two wins at the beginning of this year - and it has been frustrating that we have not achieved the maximum.
"But it is a long year and the most encouraging factor is that we have got a fast car. And I would far rather be in a position of sorting out a fast car than having a slow reliable one."
Horner is in no doubt that his outfit must get both Webber and Vettel home in the points at Sepang after the problems that struck in Bahrain and Australia.
"We are confident in our performance and the most important thing is we get both cars to the finish and score some sensible points," he said. "There is always pressure, and we put enough pressure on ourselves. At the end of the day, we are doing the chasing - but it is still very early in the championship. We know we have got a fast car, we have demonstrated that in three races so far, and it is just important that we see the chequered flag with both of the guys in the race."
Horner also played down suggestions that the team's race-day dramas were the consequence of technical chief Adrian Newey having pushed too hard for speed at the expense of reliability.
"I don't think so - Adrian doesn't design wheel nuts," said Horner referring to the incident that pitched Vettel out of the Australian Grand Prix. "He pushes the group very hard, but this has nothing to do with aerodynamics. It was a simple failure and again, he doesn't design spark plugs.
"Adrian is one of the most creative designers probably in the history of F1 and he has high standards. He pushes the group and we have a very strong group who work well around him."