Drivers call for WRC qualifying
| | |
| --- | --- |
| By David Evans | Saturday, April 3rd 2010, 14:41 GMT |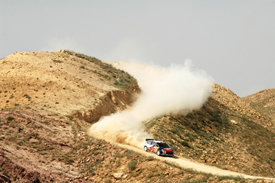 The drivers in the World Rally Championship have called for a qualifying session on the eve of events to decide the running order.
This week's Jordan Rally has been run with consistent and controversial manoeuvring from Ford and Citroen to get their drivers in the best place on the road. Six-time world champion and Jordan winner Sebastien Loeb said the drivers have come up with a way of improving the situation for all concerned.
"It's boring for us to talk about this, we don't want to anymore," said Loeb. "We have to look at the way we can change the situation and all of the drivers are talking about one possibility, to have shakedown which will be qualification for the rally.
"We should all do four laps in the order of championship. The first three laps are to clean the road, then on the fourth lap we take the time and the driver with the fastest time can then chose his position for the first day [of the rally]. After that, the leader of each day can chose his position for the following day. Then it's fair for everybody, we would all start at equal chances to win. On the sport side, this is fair.
"This would also make some interest for the shakedown stage. It will make a good story for the media and stop this problem. This could work for a two-day rally because on some events, we spend two days doing nothing really, just playing tactics and then on Sunday we have the race."