Buemi angry for not doing better
| | |
| --- | --- |
| By Pablo Elizalde | Saturday, April 3rd 2010, 10:10 GMT |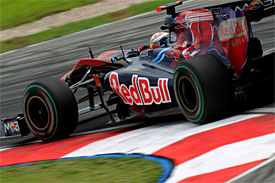 Sebastian Buemi said he was angry after qualifying for the Malaysian Grand Prix, as he felt he had not made the most of the conditions.
Toro Rosso driver Buemi will start tomorrow's race from 13th place, following the Italian squad's strongest combined performance of the year so far.
The Swiss driver, however, conceded he could have done better.
"I'm angry because I did not make the most of Q2," said Buemi. "But there's nothing I can do about it and so we will have to tackle the race from where we are.
"I started Q2 on full wets because we felt the conditions demanded it, but I stayed on track too long and then, after I came in and switched to the Intermediates, it was too late because the rain had started to get stronger again."
Team-mate Jaime Alguersuari also took advantage of the tricky conditions to qualify in a promising 14th, but the Spaniard also felt he would have done more.
"When you look at what happened to some of the quicker guys, I would say this qualifying result is reasonably okay for me," he said. "However, maybe if I had come in earlier in Q2 to switch from full wets to intermediates, then maybe I could have had a chance of seeing Q3.
"If the conditions are similar to this tomorrow and I believe that is the forecast, then you never know what could happen, although personally I would prefer a dry race."