McLaren duo rue wrong qualifying call
| | |
| --- | --- |
| By Pablo Elizalde | Saturday, April 3rd 2010, 09:45 GMT |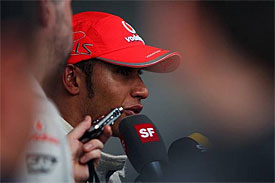 McLaren drivers Lewis Hamilton and Jenson Button were left lamenting their mistake after being knocked out in Q1 for the Malaysian Grand Prix.
The duo waited to go out and set a time, hoping that conditions would improve after heavy rain had hit the track.
However, conditions only worsened and by the ttime they set a timed lap, the circuit was too wet to reach Q2.
Hamilton admitted McLaren's had been the wrong call.
"I think we started a bit too late, but we went out at a similar times to all the other top teams, but it was just unlucky," he said.
"It's one of those things. We had been fastest all weekend and then it's just so my luck, but what can you do? You just have to shrug it off and tomorrow I'll race my heart out again."
He added: "It was one of those days. It's been a good weekend so far, but we didn't expect it to rain anymore and it got wetter and wetter and couldn't get the time, so. Hard work tomorrow, for sure but I'll do my best."
Hamilton will start from 20th position, three places behind Button, whose session ended when he lost control of his car and got stuck in the gravel.
"We read it wrong, basically," Button said. "We thought nothing else was coming so we waited and it was obviously the wrong thing to do.
"My first lap on inters felt okay. It was quite wet but it felt okay. I just aquaplaned off, really. I couldn't do anything about it. I was stuck in the gravel. I hope I haven't damaged anything because I was stuck in the gravel with the engine running for quite a long time hoping to get pulled out, but that wasn't the case.
"Very disappointing, and a very strange session with both McLarens out and both Ferraris out."
The world champion at lest found some consolation in the fact that both Hamilton and the Ferrari drivers had qualified behind him.
"On the way back you feel pretty awful having gone off the circuit, but I'm in front of my championship rivals. I suppose that's the best way of looking at it. But I'm behind all other rivals which is a tough one. We made the wrong call and paid for it. Hopefully we'll make up for it tomorrow."